Blueberry Lime Cheesecake. A delicious flavour combination in a creamy, indulgent cheesecake with a little something deliciously different about the crust.
This blueberry lime cheesecake was inspired by a recently successful jam experiment here on Rock Recipes. I just loved the beautiful lime citrus flavour that complimented the blueberries so well in what has become a new family favourite on morning toast.
For the jam, I figured if lemon worked well, why not lime? When the opportunity arose to test some low sugar pectin, I jumped at the chance to give it a shot. I really think y0u should too, so be sure to check out that low sugar version of Blueberry Lime Jam here.
A real celebration dessert!
Around Christmas time, that jam went like hotcakes around here. It seemed everyone who came to the house left with a jar. Inevitably, I decided to translate the same flavour into a dessert for our Christmas celebration family dinner.
There are normally several desserts served at our family Christmas dinner. Mainly for variety, but also so that we can (hopefully) have leftovers of all of them for Boxing Day and the additional few days after Christmas.
My Old Fashioned Pecan Pie has been a traditional must-have for me for Christmas Day, as is an annual resurrected tradition for a Christmas Pudding. A good cheesecake sometimes rounds out the trio and this year's choice was this gorgeous Blueberry Lime Cheesecake.
A different crust for this Blueberry Lime Cheesecake.
You'll also find something deliciously different about the crust in this luscious Blueberry Lime Cheesecake. It is NOT a standard graham cracker crumb crust!
Graham cracker crumb crusts might be pervasive in North America, but it is not the same in the rest of the world. Every week I get questions from the UK, Australia and other locations asking what graham cracker crumbs are?
From watching many, many British cooking and baking programs over the years, I know that crushed digestive biscuits are the standard base for a cheesecake crust. I decided it was long past time that I tried it.
I discovered that it works incredibly well, holds up somewhat better than graham wafer crumbs, and tastes absolutely delicious! I'll be using them again, for sure.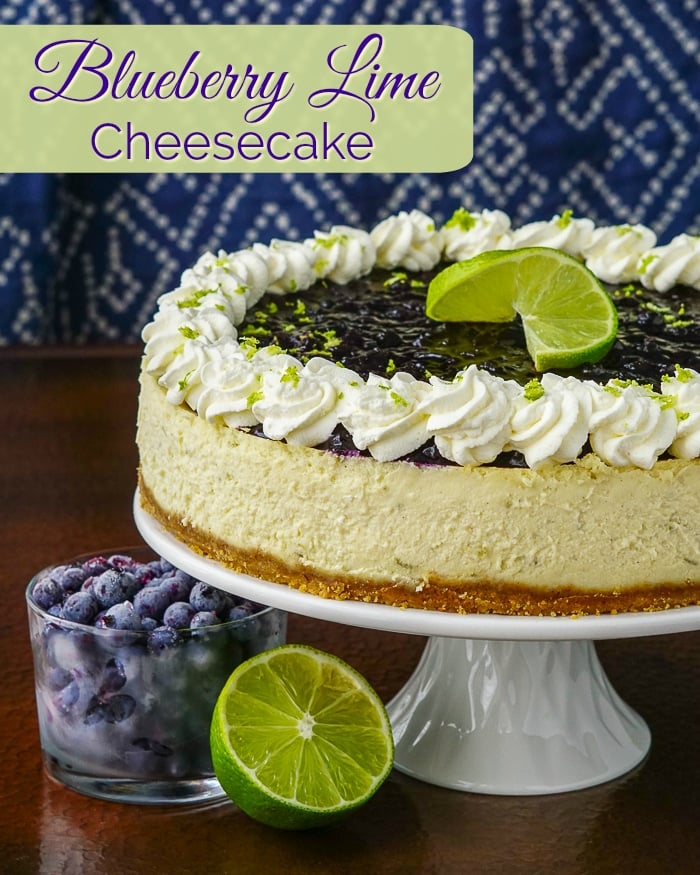 Digestive biscuits are readily available in many Canadian supermarkets but you can also get them online at Amazon. I've provided an affiliate link to the purchase page after the recipe.
If you liked this recipe you'll also want to try one of our other most popular cheesecake recipes, Coconut Cream Cheesecake!
Like this Blueberry Lime Cheesecake recipe?
You'll find hundreds of other sweet ideas in our Cakes & Pies Category and even more in our Desserts Category.
It's easy to keep up with the latest home style cooking & baking ideas from Rock Recipes. Be sure to follow Rock Recipes Facebook Page and follow us on Instagram.
Plus you'll see daily recipe suggestions from decadent desserts to quick delicious weekday meals too.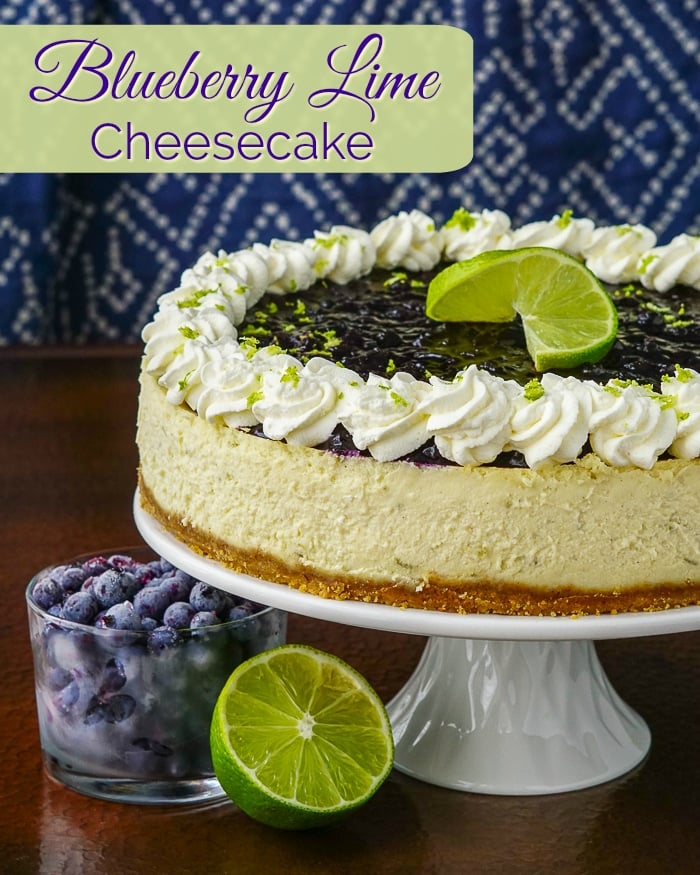 You can also sign up for our FREE newsletter to know immediately when we add new recipes. You'll also get weekly suggestions for great family friendly meals and desserts too!

Rock Recipes a participant in the Amazon Services LLC Associates Program, an affiliate advertising program designed to provide a means for us to earn fees by linking to Amazon.com and affiliated sites. Our product recommendations are almost exclusively for those we currently use or have used in the past.
Visit my Amazon Store for my favourite kitchen gadgets and appliances, plus recommendations from my personal cookbook collection.
Yield:

16 Servings
Blueberry Lime Cheesecake
Cook Time:
1 hour
15 minutes
Total Time:
1 hour
45 minutes
Blueberry Lime Cheesecake. A delicious flavour combination in a creamy, indulgent cheesecake with a little something deliciously different about the crust.
Ingredients
FOR THE DIGESTIVE BISCUIT CRUST
1 1/2 cups digestive biscuit crumbs (see instrucions
1/3 cup melted butter
2 tbsp sugar
FOR THE CHEESECAKE LAYER
3 cups cream cheese, (3 eight ounce blocks)
1 cup sugar
3 eggs
1 tsp vanilla extract
1 cup whipping cream
zest of 2 limes finely minced
FOR THE BLUEBERRY COMPOTE
2 cups blueberries, fresh or frozen
½ cup sugar
1 tsp finely grated lime zest
1 rounded tablespoon corn starch
¼ cup water
Instructions
To prepare the digestive biscuit crumb crust
I use a food processor to finely crush the digestive biscuits but you could easily use a plastic bag and roll over the biscuits with a rolling pin until they are finely crushed.
Grease the bottom of a 9 inch springform pan or better, line it with parchment paper.
Mix together the digestive biscuit crumbs, melted butter, and 2 tbsp sugar until well combined.
Press into the bottom of the greased or parchment lined springform pan.
To prepare the cheesecake batter
Cream together the cream cheese and sugar.
Add the eggs, one at a time, beating well after each addition, then beat in the vanilla extract.
Pour in the whipping cream (straight from the carton, unwhipped) and blend together until smooth.
Fold in the lime zest thoroughly.
Pour over the prepared base and bake in a bain marie at 300 degrees F for about 1 hour and 15 minutes. The cheesecake does not have to brown at all in order to be fully baked; the surface of the cheesecake should lose any shine when the cake is properly baked. It can still be slightly wobbly just at the centre at this point. (If you do not want to use the bain marie method, simply wrap the outside of the sringform pan with two layers of aluminum foil to buffer the heat.)
Remove the cake from the oven and run a sharp knife completely around the edge of the pan. This will allow for the cheesecake to shrink as it cools and hopefully not crack (but who cares if it does? I am never bothered by a crack or two in the surface) Allow the cheesecake to cool thoroughly on a wire rack at room temperature for an hour or so before cooling it completely for a few hours or overnight in the fridge.
To prepare the Blueberry lime compote topping
Bring the berries, lime zest and sugar to a very gentle boil.
Mix the corn starch with the water and add slowly to the boiling berry mixture stirring constantly.
Boil gently for 1 additional minute stirring constantly.
Cool and pour over the cooled flan. Refrigerate for 2 - 3 hours before serving.
If you like, you can garnish with whipped cream and grated lime zest before serving.
Notes
A word about baking a cheesecake in a bain marie. A bain marie is simply a water bath that buffers the direct heat from the sides and bottom of the baking pan to more evenly bake the cheesecake from the sides to the center.
I bake my cheesecakes in a 9 or 10 inch spring form pan that has the bottom and sides wrapped in multiple layers of wide heavy duty aluminum foil which forms a sort of boat that the cheesecake pan sits in. The roll of aluminum foil that I use is about 16 inches wide.
I use at least 4 layers of foil to make sure that no water leaks in and ruins the crust of my cheesecake. The aluminum foil wrapped pan is then placed inside a larger baking pan; I use a 12 inch cake pan. Boiling water is then poured into the larger pan filling it from 1/2 to 2/3 of the way to the top.
Pour carefully
I find it best to pour the boiling water into the pan after it is placed on the rack in the oven as you are less likely to splash water onto the cheesecake or inside the aluminum foil. I reuse the aluminum foil for several future cheesecakes, adding a couple of layers to it each time just to be safe.
Even if you choose not to use the bain marie method, wrapping the spring form pan with a few layers of foil, really helps to buffer the heat and help the cheesecake bake more evenly.


The nutritional information provided is automatically calculated by third party software and is meant as a guideline only. Exact accuracy is not guaranteed. For recipes where all ingredients may not be used entirely, such as those with coatings on meats, or with sauces or dressings for example, calorie & nutritional values per serving will likely be somewhat lower than indicated.
Nutrition Information
Yield
16
Serving Size
1 serving
Amount Per Serving
Calories

365
Total Fat

25g
Saturated Fat

14g
Unsaturated Fat

0g
Cholesterol

108mg
Sodium

240mg
Carbohydrates

31g
Sugar

25g
Protein

4g