Braised Short Rib Soup. A new version of Beef Barley Soup. A very rich and satisfying version of a favourite soup that uses flavourful beef short ribs to create a deliciously deep broth.
This braised short rib soup came about because Spouse was feeling under the weather today. She was in need of a little wholesome comfort food to see her through her misery. Her love of almost any kind of soup has been well documented on these web pages, so I took off to the market to see what I could come up with.
I managed to find some short ribs that looked pretty good. I thought that if I slow braised them and pulled them apart like pulled pork to add to the soup it would be particularly rich and delicious.
I had made some beef stock using my oven method only the day before, so that was waiting in the fridge for me to skim off the solidified fat and put to good use. The timing was perfect.
My own preference for soups, especially when I'm feeling poorly, is to keep it as simple as possible. Spouse loves barley in her beef soup so I decided only to add carrots to the simple soup. This lets the rich flavour of the beef and the flavoursome depth of the broth be the foundation of the soup.
Of course, you could bump up the heartiness of this soup by adding additional vegetables like, celery and parsnips or even some sweet corn kernels if you like.
This soup also makes for a fantastic way to use leftover braised short ribs or even leftovers from our fantastic recipe for French Onion Braised Beef Brisket. Now there's a great Monday meal idea after a slow cooked Sunday dinner.
While you're at it, why not take a little extra time to quickly throw together some fresh Cheddar and Chive Buttermilk Biscuits to serve with this satisfying beef barley soup?

Like this short rib soup recipe?
If you're a soup fan like Spouse, we have dozens of great soup ideas, plenty of which make great use of leftovers too Find them in our Soup Recipes Category.
To keep up with the latest home style cooking & baking ideas from Rock Recipes plus daily recipe suggestions from decadent desserts to quick delicious weekday meals, be sure to follow Rock Recipes Facebook Page and follow us on Instagram.
You might also like our recipe for Homemade Tomato Soup.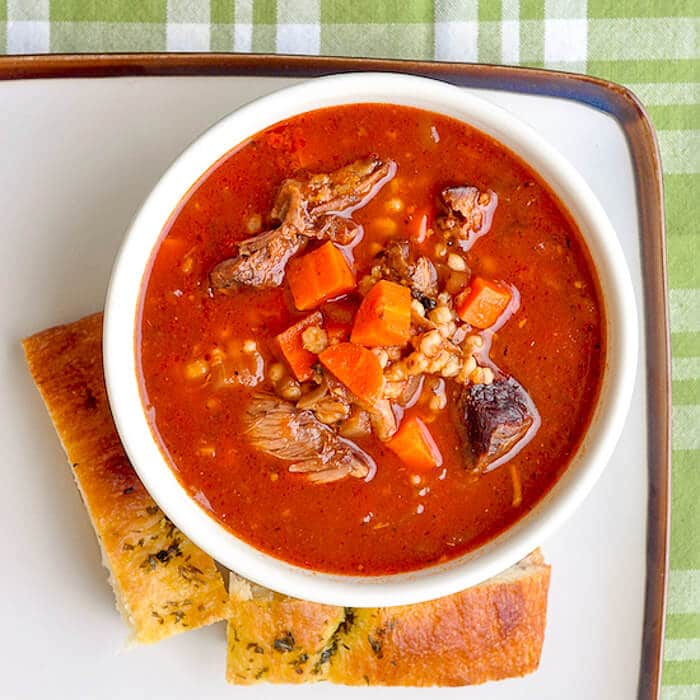 Braised Shortrib Soup - a new version of Beef Barley Soup
Braised Shortrib Soup - a new version of Beef Barley Soup. A very rich and satisfying version of a favourite soup that uses flavorful beef short ribs to create a deliciously deep broth.
Ingredients
2 1/2

lbs

beef short ribs

salt and pepper to season

flour for dredging

about 1/2 cup

3-4

tbsp

vegetable oil

6

cups

of low sodium or no salt added beef stock

2

large red onion diced small

4 cloves minced garlic

4

cups

canned tomato puree

1/2

tsp

black pepper

1/2

tsp

kosher salt

2

tsp

dried thyme

1

tbsp

brown sugar

1

tsp

freshly ground nutmeg

1

rounded tsp smoked paprika

1/3

cup

pearl barley

4

large carrots

diced small
Instructions
Season the short ribs with salt and pepper and dredge them in the flour, covering them in an even coat on all sides. Throw out any excess flour.

Heat the vegetable oil in a cast iron skillet over medium to medium high heat and brown the short ribs on both sides.

Transfer the browned ribs to a covered roasting pan or dutch oven.

Add the onions, garlic and 2 cups of the beef stock.

Slow cook at 300 degrees F for at least a couple of hours until the meat is tender and falling off the bones.

Remove the ribs from the pot, skim off any excess fat from the braising liquid and pour it into a 6 to 8 liter /quart pot.

Add the remaining 4 cups beef stock along with the pureed tomatoes, pepper, salt, sugar, thyme, smoked paprika and nutmeg. Simmer for about 20 minutes.

While the soup is simmering, remove all of the meat off of the short ribs by pulling it off in small pieces with a fork. Remove any excess fat, leaving only the tender meat behind.

After 20 minutes, add the beef to the soup pot along with the barley and carrots.

Simmer for another 20 minutes or so until the carrots and barley are cooked.

In the last 10 minutes of cooking time, taste the broth to determine if it needs any additional seasoning.

I prefer this soup a little on the thick side but if you prefer a thinner soup you can easily add another couple of cups of beef stock at any stage after the beef has cooked.
[asa2]1550816551[/asa2][asa2 country_code="CA"]1550816128[/asa2][asa2]1550815555[/asa2]
Rock Recipes a participant in the Amazon Services LLC Associates Program, an affiliate advertising program designed to provide a means for us to earn fees by linking to Amazon.com and affiliated sites. Our product recommendations are almost exclusively for those we currently use or have used in the past.