Chocolate Cherry Cheesecake Trifle. Layers of cake, chocolate sauce, cherry compote and cheesecake filling. A real celebration dessert that's terrific for serving large crowds.
I celebrated my birthday last week and had a few friends around for sips and nibbles as usual. I served up some great wings that were oven baked after simply being coated in my famous BBQ Dry Rub along with one of my favourites, Blueberry Baked Brie with Hazelnuts and Honey.
When it came time to decide on a birthday cake, I decided I didn't want a traditional cake; it's my birthday after all, so why not have what I want? That's my way of thinking!
Trifles are a longtime favourite dessert of mine.
I've always been a big fan of trifle desserts of any sort. From traditional jelly and custard trifle that I loved as a kid, even with canned fruit cocktail where every fruit in the tin tasted exactly like the next!
My trifles are still pretty simple in concept but a bit more diverse in flavour these days with great versions like Orange Chocolate Mousse Trifle, Lemon Mousse Trifle or even Raspberry Coconut Cream Trifle. So, with friends coming over I decided that a birthday trifle was a great idea.
I already had thought about a Cherry Cheesecake for a birthday cake because I had frozen cherries and cream cheese on hand. I decided to stay with that idea but turn it into a trifle instead.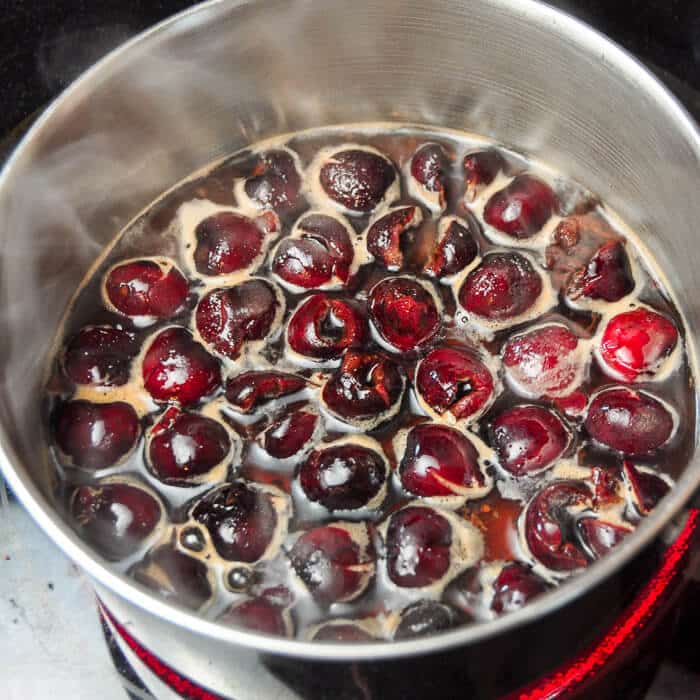 To make the trifle a little boozy, I sprinkled the cake cubes with dark rum because I love that flavour in my Strawberry Screech Black Forest Cake. You could use Kirsh liqueur if you wanted or no alcohol at all if you prefer it that way.

I've used my standard one bowl Chocolate Cake recipe in this trifle that I baked in a 9×13 inch pan but if you prefer, a Chocolate Sponge Cake will be excellent as well.
Chocolate Cherry Cheesecake TrifleMy friends loved my birthday trifle and agreed that when it's your birthday, the choice should be yours. So, if you'd rather have birthday pie or birthday cheesecake or even birthday trifle, you have my permission to go right ahead and do so. Your day, your rules! 🙂
Looking for more celebration desserts?
Be sure to browse this incredible collection of Favourite Chocolate Recipes from the past 10 years on Rock Recipes.
You'll find hundreds of other sweet ideas in our Cakes & Pies Category and even more in our Desserts Category.
Be sure to have a look at our very popular White Chocolate Cheesecake Trifle with Summer Fruit, too. It's one of my favourite summer desserts.
Like this Chocolate Cherry Cheesecake Trifle recipe?
It's easy to keep up with the latest home style cooking & baking ideas from Rock Recipes. Be sure to follow Rock Recipes Facebook Page and follow us on Instagram.
Plus you'll see daily recipe suggestions from decadent desserts to quick delicious weekday meals too.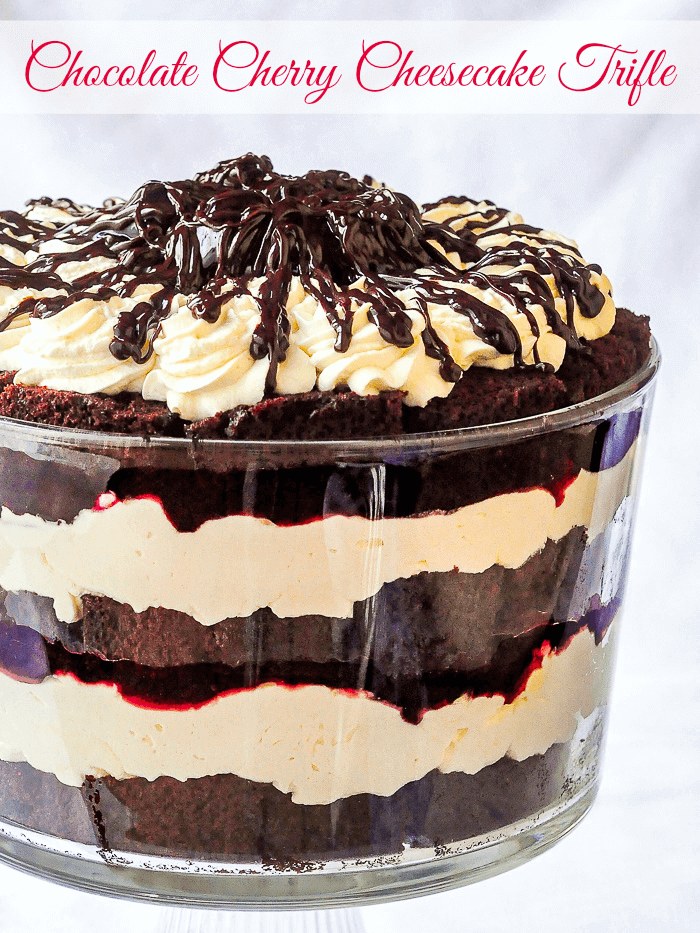 You can also sign up for our FREE newsletter to know immediately when we add new recipes are added. You'll get weekly suggestions for great family friendly meals and desserts too!

Rock Recipes a participant in the Amazon Services LLC Associates Program, an affiliate advertising program designed to provide a means for us to earn fees by linking to Amazon.com and affiliated sites. Our product recommendations are almost exclusively for those we currently use or have used in the past.
Visit my Amazon Store for my favourite kitchen gadgets and appliances, plus recommendations from my personal cookbook collection.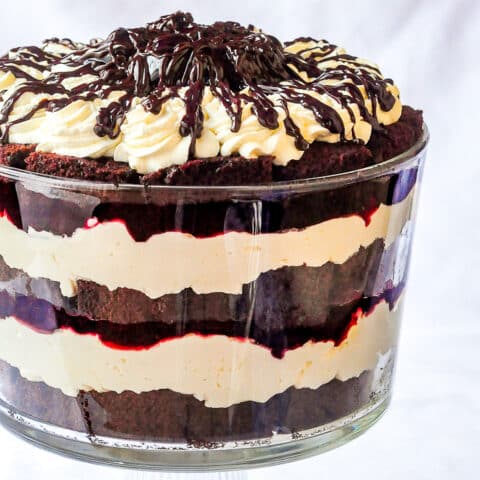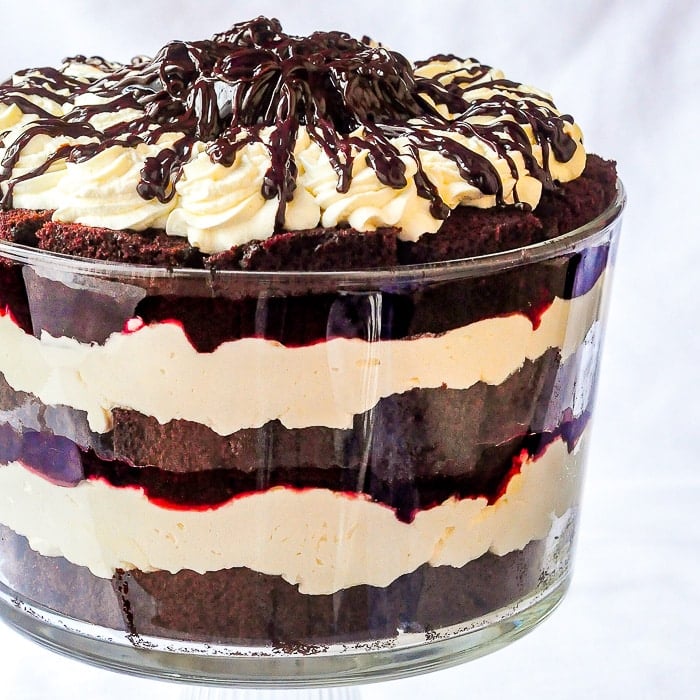 Yield:

16 servings or more
Chocolate Cherry Cheesecake Trifle
Total Time:
1 hour
40 minutes
Chocolate Cherry Cheesecake Trifle - layers of cake, chocolate sauce, cherry compote and cheesecake filling. A real celebration dessert that's terrific for serving large crowds.
Ingredients
For this trifle you will need to make the following components
1 Rock Recipes One Bowl Chocolate Cake, SEE NOTES
Cherry Compote
Vanilla Cream Cheese Filling
Vanilla Whipped Cream
Chocolate Ganache Sauce
For the Cherry Compote
4 cups pitted sweet cherries, fresh or frozen
2/3 cup water
3/4 cup sugar
1 tsp vanilla extract
1 1/2 tablespoons corn starch + ¼ cup water
For the Vanilla Cheesecake Filling
1 pound cream cheese (2 eight ounce packages)
1 cup icing sugar (powdered sugar)
1½ cups whipping cream
2 tsp vanilla extract
For the Vanilla Whipped Cream (for the top layer/garnish)
1 ½ cups whipping cream
3 tbsp icing sugar, powdered sugar
1 tsp vanilla extract
For the Chocolate Ganache Sauce
½ cup whipping cream
1 cup semi sweet chocolate chips
Additionally you will need
3 or 4 ounces of dark rum (or Kirsh liqueur)
Instructions
This trifle requires quite a large serving dish. The one I use holds about 16 cups.
Bake the cake as instructed and let it cool on a wire rack before cutting it into cubes.
To prepare the Cherry Compote
Make the cherry filling while the cake is in the oven because it too will have to cool to room temperature.
In a small saucepan, add the cherries, 2/3 cup water, sugar and vanilla extract.
Bring to a gentle simmer for 15 minutes.
Dissolve the cornstarch in the ¼ cup of water and slowly stir into the boiling cherries. Stir constantly until the cherries begin to simmer again, then cook for only a minute longer.
Remove from heat and transfer to a heatproof bowl to cool to room temperature, stirring occasionally. It is not recommended to cool this mixture quickly in the fridge because you can set the corn starch.
You can reserve about a 1/2 cup of the cherry compote to garnish the top of the trifle as pictured if you like.
To prepare the Vanilla Cheesecake Filling
Remove 3 rounded tbsp of the icing sugar from the 1 cup you have measured. Add the 3 tbsp icing sugar to the bowl of an electric mixer along with the vanilla extract and whipping cream. Beat together to firm peaks, then transfer the whipped cream to a separate bowl.
Now add the remaining powdered sugar and the cream cheese to the electric mixer bowl and cream together well until smooth and the cream cheese is well softened.
Add about ½ cup of the whipped cream to the softened cream cheese mixture and beat again until smooth. (This step helps soften the cream cheese mixture a little more for the next step)
Finally fold in the remaining whipped cream by hand until smooth, using a rubber or silicone spatula.
To prepare the Vanilla Whipped Cream (for the top layer/garnish)
Beat the cream, icing sugar and vanilla together to firm peaks.
To prepare the Chocolate Ganache Sauce
Scald ½ cup cream and add 1 cup semi sweet chocolate chips.
Stir over low heat only until smooth. Set aside to cool slightly.
To assemble the trifle
Chop the cake into cubes and layer ⅓ of them into the bottom of your trifle bowl. Drizzle with an ounce of the rum or kirsh and about 1/3 of the chocolate sauce.
Add half the vanilla cheesecake filling in the next layer. Then about half the cherry compote.
Begin to layer again with another ⅓ of the cake cubes, rum, chocolate sauce, , then the remaining half of the cheesecake filling, the cherry compote and finally the remaining cake cubes and a final sprinkle of rum or Kirsh.
Top with Vanilla Whipped Cream, any reserved cherry compote and drizzle with the remaining Chocolate Ganache Sauce.
Nutrition Information
Yield
16
Amount Per Serving
Calories

453
Total Fat

33g
Saturated Fat

20g
Unsaturated Fat

0g
Cholesterol

103mg
Sodium

113mg
Carbohydrates

33g
Fiber

2g
Sugar

28g
Protein

4g