Cranberry Kale Salad with Pecans and a Fat-Free Creamy Lemon Thyme Dressing. Plus a bonus recipe for Jalapeño Cheddar Biscuits. Great side dishes for a quick dinner.
This Cranberry Kale Salad does look a little bit festive for this time of year doesn't it? Things can get pretty busy around here, as I'm sure it does around your place in the weeks running up to the Holidays. With so many other things to accomplish, it does become a bit of a challenge to get a home cooked dinner on the table each night and even in our house, a quick take-out meal becomes the obvious solution. But what about serving a meal that borrows from the best of both worlds?
At our house, the subject of what to choose as a take-out dinner can be a contentious one; don't get me started on agreeing on pizza toppings please! One of my favourites since I was a kid though, and one our family always seems to come together on, is an old fashioned bucket of KFC.
I recently wrote about my visit to a Canadian chicken farm where they actually grow farm fresh real chicken for some of KFC's restaurants in Ontario. One of the things I learned that day was that KFC uses locally grown chickens for all its restaurants in the country, providing chicken that's so fresh, farmer Corey Vantol told us, that it was possible for the chicken to go from farm to restaurant in 24 hours in some cases. It's delivered to the restaurants, hand-breaded and cooked in small batches at each location multiple times a day.
Another important thing I learned was that the chicken is grown without added hormones or steroids. I think many people still have the misconception these days that hormones and steroids are commonly used in chicken farming, but nothing could be further from the truth. Added hormones or steroids have been illegal in Canada in chicken farming since 1965…that's over 50 years!
On this blog I talk about real food for real people a lot, and locally grown Kentucky Fried Chicken certainly fits that bill; fresh, never-frozen, real chicken, the same chicken from the same sources as you'll find on your supermarket shelves. So I figured, why not combine some real food of my own with a bucket of that tasty KFC for an enjoyable family meal.
I got the idea because we were joined for lunch on the farm that day by Food Network Chef Bob Blumer, who actually prepared kale caesar salad & pumpkin soup to accompany the chicken we enjoyed at the meal. I enjoyed the kale salad so much that I decided to try my hand at another version myself, this time with a fat-free yogurt based dressing.
Fresh biscuits are a natural fit with fried chicken so I jazzed those up with some chopped jalapeño peppers and little cubes of cheddar cheese baked right in. These biscuits are pretty quick to make. I usually can have them in the oven in 10 minutes or so. Don't worry too much about the heat of the jalapeño peppers. I find the heat mellows considerably in the baking process but you can always adjust the amount to your family's taste…or use habanero peppers if your heat tolerance is a bit more adventurous!
Like this Cranberry Kale Salad recipe?
Be sure to browse the photo index of delicious dishes in our Healthy Eating Category.
To keep up with the latest home style cooking & baking ideas from Rock Recipes plus daily recipe suggestions from decadent desserts to quick delicious weekday meals, be sure to follow Rock Recipes Facebook Page and follow us on Instagram.
You might also like: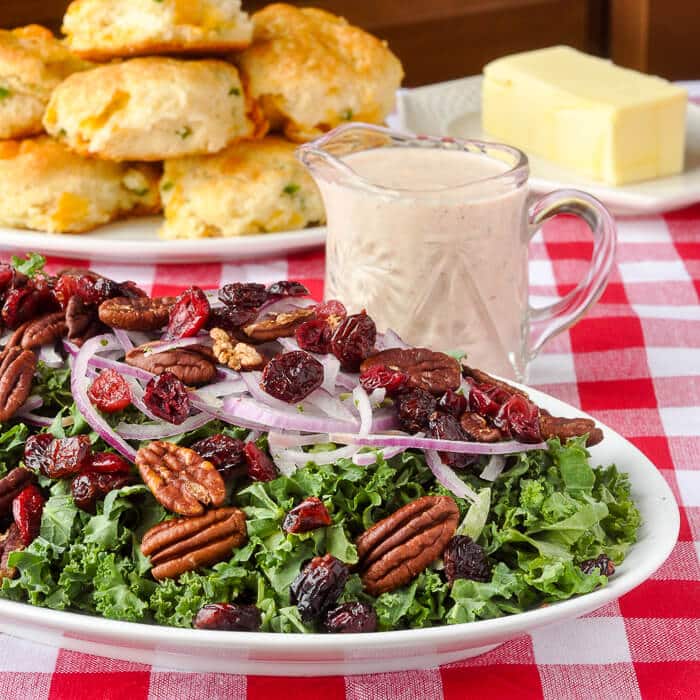 Cranberry Kale Salad with Pecans and a Fat-Free Creamy Lemon Thyme Dressing.
Cranberry Kale Salad with Pecans and a Fat-Free Creamy Lemon Thyme Dressing. Plus a bonus recipe for Jalapeño Cheddar Biscuits. Great side dishes for a quick dinner.
Ingredients
6

cups

finely chopped kale

2/3

cup

dried cranberries

3/4

cup

toasted pecans

1/2

large red onion

thinly sliced
For the Fat Free Creamy Lemon Thyme Dressing
3/4

cup

fat-free Greek yogurt

1

clove

very finely minced garlic

or 1/2 tsp garlic powder

zest of 1/2 large lemon

finely minced

juice of 1/2 large lemon

or maybe a little more if necessary

1

Tbsp

Worcestershire sauce

1

Tbsp

honey

or to taste

1

tsp

fresh chopped thyme

or 1/2 tsp dried thyme

pinch or two of salt and pepper to season

1/2

tsp

smoked paprika

optional
Instructions
Arrange the salad ingredients on a platter or on 4 individual dinner plates. (If you prefer to dress/toss your salad first, then add them all to a large bowl.)
To prepare the dressing
Simply whisk all of the ingredients together until well combined.You can make this dressing a couple of hours or a day ahead if you like. The flavours tend to meld together better if made a little. in advance.

courses lunch, dinner
And as promised, a bonus recipe for these delicious biscuits.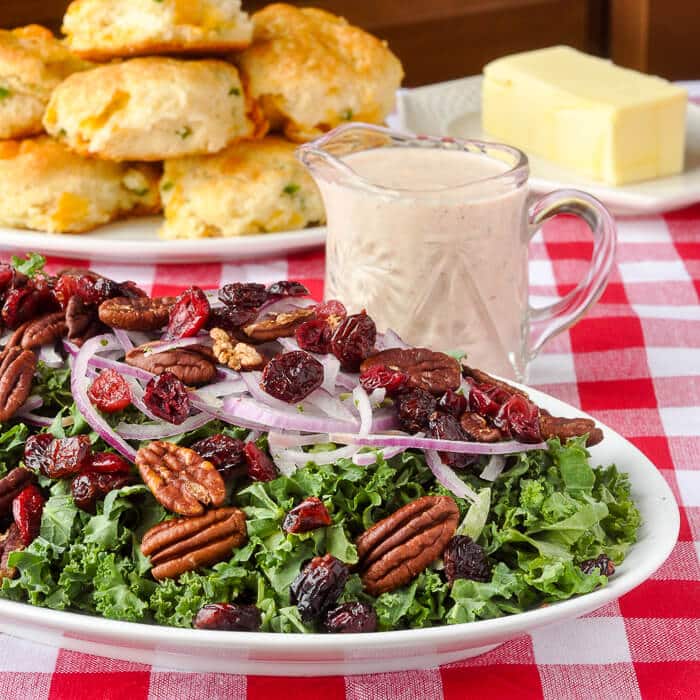 Cheddar Jalapeño Biscuits
Cheddar Jalapeno Biscuits - butter biscuits with diced jalapeño peppers and little cheddar chunks baked right in.
Cuisine:
North American, Southern Inspired
Servings
:
1
dozen biscuits
Ingredients
2

cups

all purpose flour

3

tsp

baking powder

1/4

tsp

baking soda

1/4

tsp

salt

¼

cup

+ 2 tbsp very cold salted butter

cut in small cubes

1

cups

buttermilk

or 1 Tbsp lemon juice in 1 cup milk to sour it

1

to 2 deseeded jalapeno peppers

very finely diced

2/3

cup

cheddar cubes

about 1/4 inch dice
Instructions
Preheat oven to 425 degrees F.

In a food processor, blend together the flour, salt, baking powder and baking soda.

Pulse in the cold butter. Do not over incorporate the butter into the flour. Similar to making a flaky pastry, small pieces of butter should be visible in the flour.

Transfer this mixture from the food processor into a large mixing bowl, toss in the cheddar cubes and chopped jalapeño peppers.

Make a well in the center. Pour in the buttermilk.

Working very quickly with a wooden spoon, fold the dry mixture through the buttermilk, only until the flour disappears, then stop immediately.

Drop the sticky dough onto a well floured counter top or bread board. Sprinkle the top of the dough with additional flour as well as flouring your hands to handle the dough. I don't even use a rolling pin for these biscuits, the dough is soft enough to pat it out gently with floured hands to a thickness of about 1 & ½ inches.

Using a sharp 2 inch biscuit cutter cut the biscuits out an place them, almost touching, on a parchment paper lined 9 inch x 9 inch baking pan. I recommend aluminum baking pans because they tolerate the higher oven temperature without burning the bottom of the biscuits.

Brush the tops with a little extra milk if you like for even browning.

Bake in the preheated oven for about 20 minutes or until the tops of the biscuits are evenly golden brown.
Rock Recipes is very pleased to have this post sponsored by KFC Canada, who provided compensation for this post. Opinions expressed in this post are entirely my own.
To learn more about KFC and how it uses real, locally raised, Canadian chicken in its restaurants nationwide, please visit https://www.kfc.ca/kfcisforchicken
[asa2]1550816551[/asa2][asa2 country_code="CA"]1550816128[/asa2][asa2]1550815555[/asa2]
Rock Recipes a participant in the Amazon Services LLC Associates Program, an affiliate advertising program designed to provide a means for us to earn fees by linking to Amazon.com and affiliated sites. Our product recommendations are almost exclusively for those we currently use or have used in the past.