Danish Pastry. Get the shortcut recipe for danish pastry dough that doesn't even have to be kneaded. Use it for Fruit Danish, Pinwheels, Turnovers, Crescents and more.
This Danish Pastry recipe couldn't be easier. It does need to be rested for several hours or overnight but doesn't require kneading or a long term time commitment.
If you love a good breakfast pastries, then this recipe is right up your street.
I turn this easy to make and versatile dough into several versions of a breakfast danish; from simple butter crescent rolls to pretty raspberry pinwheels.
Unlike many complex danish doughs, which are much akin to the intricacy of making croissants, this dough doesn't even get kneaded. How easy is that?!
Use this versatile recipe with fresh fruit or seasonal jams, with custard filling or with cream cheese and fruit compotes too. Let your imagination and the seasons guide you to using this recipe year round.
Love a great brunch recipe idea?
We've put together a collection of our Top 25 Fan Favourite Muffin Recipes. You may be surprised to see which delicious, wholesome muffin hit the #1 spot!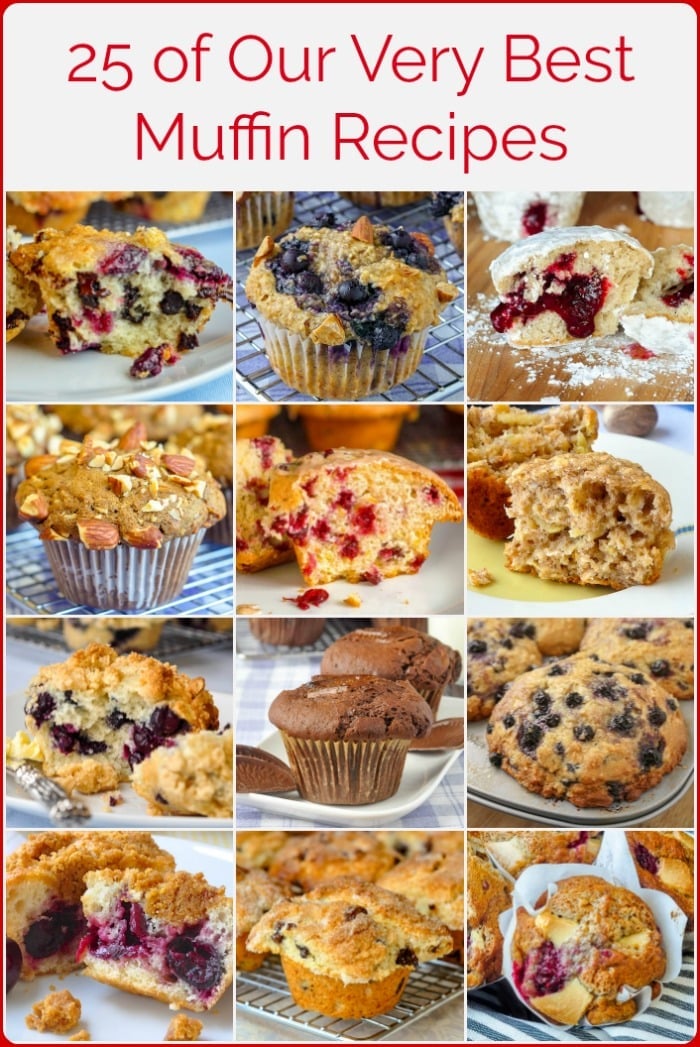 Like this Danish Pastry recipe?
You'll find hundreds of other sweet ideas in our Cakes & Pies Category and even more in our Desserts Category.
It's easy to keep up with the latest home style cooking & baking ideas from Rock Recipes. Be sure to follow Rock Recipes Facebook Page and follow us on Instagram.
Plus you'll see daily recipe suggestions from decadent desserts to quick delicious weekday meals too.
You can also sign up for our FREE newsletter to know immediately when we add new recipes. You'll also get weekly suggestions for great family friendly meals and desserts too!

Rock Recipes a participant in the Amazon Services LLC Associates Program, an affiliate advertising program designed to provide a means for us to earn fees by linking to Amazon.com and affiliated sites. Our product recommendations are almost exclusively for those we currently use or have used in the past.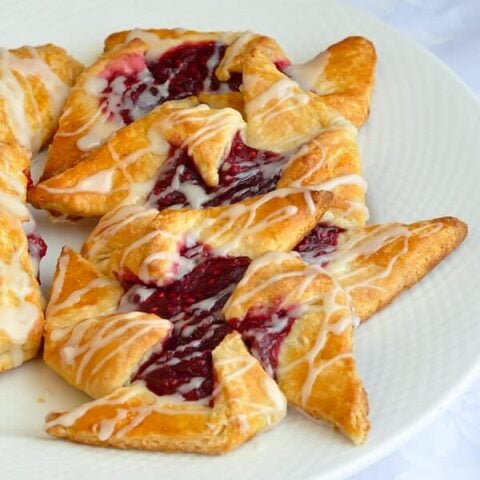 Danish Pastry - the easy way to make Fruit Danish & more.
Danish Pastry - get the shortcut recipe for danish pastry dough that doesn't even have to be kneaded. Use it for Fruit Danish, Pinwheels, Turnovers, Crescents and more.
Ingredients
1 envelope yeast, 2 1/4 tsp active dry yeast
1 tsp sugar
½ cup lukewarm water
4 cups all purpose flour
1/3 cup sugar
½ tsp salt
¾ cup butter, very cold, cut into small cubes
3 eggs
½ cup whipping cream
Instructions
Dissolve sugar into the warm water and sprinkle the yeast over the water. Let stand for 15 minutes.
In a food processor mix together the flour, sugar and salt.
Pulse in the cold butter cubes.
Do not over incorporate the butter into the flour mixture. There should still be pea sized chunks of butter in the mix; the same as if you were making good pastry.
Remove the mixture from the food processor and transfer to a large mixing bowl.
Whisk together the eggs and whipping cream.
Stir in the yeast mixture and pour over the flour mixture and toss together with a wooden spoon, just enough to make a dough form. It is not necessary to need this dough. Divide in two portions. Each portion makes about 8-10 pastries so if you don't need it all right away, double wrap one portion in plastic wrap and freeze it for later.
This dough needs to be rested in the fridge for several hours or overnight.
After forming into the desired shapes, the pastries should be left to rise for at least a half hour in a warm kitchen.
All danishes should be brushed with an egg wash made from whisking together 1 egg with 2 tbsp water before baking on a parchment lined baking sheet at 375 degrees F for 15-20 minutes or until golden brown. Timing depends upon size, larger pastries may take 25 minutes.
For Fruit Danish
Roll the dough out into a 12x18 rectangle. Cut into strips on the long side of the rectangle, about just over a half inch wide. Twirl two of the strips together and form into a spiral circle on a parchment lined cookie sheet. Let rise, then dollop a tablespoon or so of fruit or berry jam into the centre before baking. You can brush these with warm apricot jam when they come out of the oven as well.
For Cinnamon Roll Danish
Roll the dough out into a 12x18 rectangle. Sprinkle the entire surface with cinnamon sugar and about 1 cup of raisins. Starting at the short side of the rectangle of the rectangle, roll the dough up into a cylinder pinching the seam together to seal. Cut into ¾ inch thick slices.
For Danish Turnovers
Roll out to about ¼ inch thick and cut into 4 inch squares. Spoon a tablespoon of raspberry compote in the center and fold over, pressing the edges together to seal.
For Pinwheel Danish
Roll out to about ¼ inch thick and cut into 4 inch squares. Make a 1 inch slit at each corner of the dough, cutting toward the middle. Spoon a tablespoon of raspberry jam in the center then pull every second point of dough toward the center of the pastry.
For Plain Crescent Danish
Roll out into a 12x18 rectangle, then cut into tall triangles, 12 inches long and roll those up from the widest end. These are delicious with seasonal jams.
Nutrition Information
Serving Size
1 grams
Amount Per Serving
Unsaturated Fat

0g