Dijon Cole Slaw. Our standard recipe with cabbage and carrots or try adding sweetness with the addition of golden raisins and bell peppers.
This dijon coleslaw post was inspired by a photo that I posted on our Facebook Page this past weekend. It was the photo below of a traditional Newfoundland Sunday supper "cold plate".
I was astounded at the response to that photo, which turned out to be one of the most popular for Rock Recipes on Facebook for the entire year. It garnered over 1000 likes in a day and a half, plus hundreds of shares and comments. 
It goes to show that you can't underestimate the power of nostalgia. Although not nearly so commonly practiced these days, it seemed the ritual of serving cold cuts mostly those left over from the Sunday roast dinner, and a variety of cold pasta and potato salads was almost a universal Sunday tradition in Newfoundland families decades ago.
It certainly was in my extended family. If you were invited out for Sunday supper you knew exactly what you were getting.
I must remember to do a more in-depth post on the topic with a few simple recipes sometime soon. For now, many people messaged me asking how we made the Dijon Coleslaw that was on the plate in the photo. It is a base recipe that we sometimes add other things to in order to keep it interesting.
Here I'm going to provide 2 variations, a plain Dijon Coleslaw and one that adds some balancing sweetness to the tangy flavour with the addition of sweet bell peppers and golden raisins. Either one would make a terrific side dish for your next BBQ or indeed, as part of your next Sunday supper "cold plate."
Update! That Newfoundland Cold Plate post has been added and there you will find links to over 20 pasta, 7 potato salad side dishes for any summer BBQ or pot luck all year long. 
Like this Dijon Coleslaw recipe?
You'll find dozens of terrific ideas like this  in our dedicated Side Dishes Category.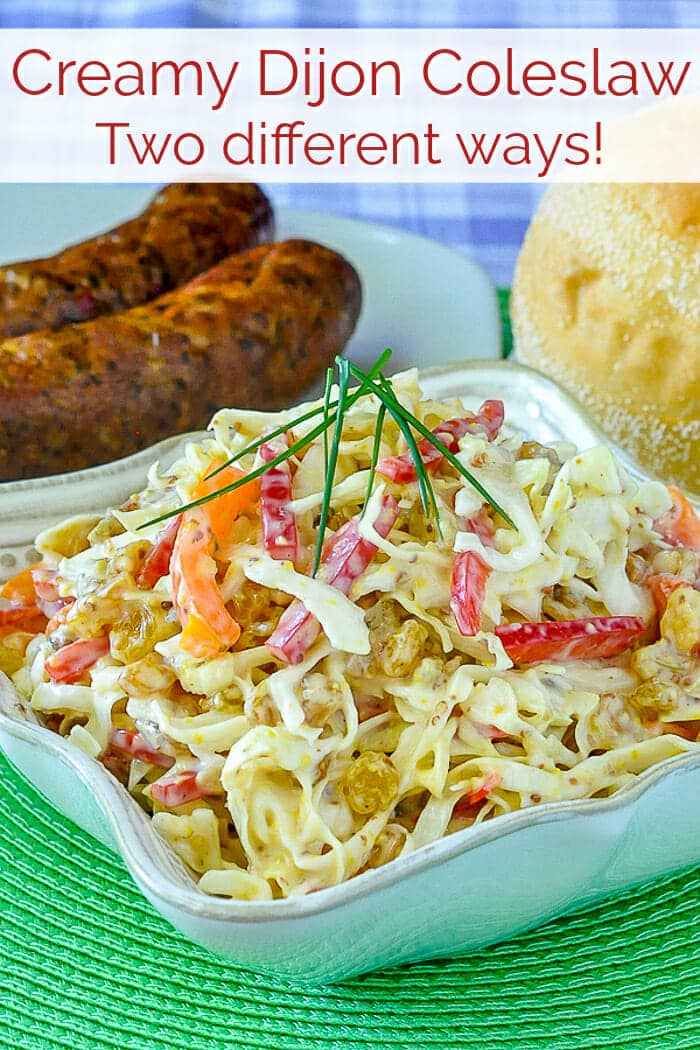 To keep up with the latest home style cooking & baking ideas from Rock Recipes plus daily recipe suggestions from decadent desserts to quick delicious weekday meals, be sure to follow Rock Recipes Facebook Page and follow us on Instagram.
You might also like our recipe for Lemon Shrimp Pasta Salad.
Dijon Cole Slaw - two ways!
Dijon Cole Slaw - our standard recipe with cabbage and carrots or try adding sweetness with the addition of golden raisins and bell peppers.
Ingredients
For the Dijon Coleslaw Dressing
3/4

cup

plain mayonnaise

1

tbsp

apple cider vinegar

2

tbsp

whole grain Dijon mustard

2

tbsp

honey
For the coleslaw
4

cups

shredded cabbage

1

large grated carrot

2

in

small bell peppers (red

orange or yellow) cut thin slices (optional)

1/2

cup

golden raisins

optional
Instructions
Whisk all of the ingredients for the coleslaw dressing together and set aside.

Chop and shred all of the coleslaw ingredients as required. Cover with plastic wrap and chill until ready to serve.

Toss the coleslaw with the dressing just prior to serving.
Recipe Notes
The mayonnaise we use in this dressing nowadays is almost always a reduced fat version.
When making the bell pepper and raisin version of this coleslaw I omit the grated carrot most time but it's perfectly fine to add it too if you want.
[asa2]1550816551[/asa2][asa2 country_code="CA"]1550816128[/asa2][asa2]1550815555[/asa2]
Rock Recipes a participant in the Amazon Services LLC Associates Program, an affiliate advertising program designed to provide a means for us to earn fees by linking to Amazon.com and affiliated sites. Our product recommendations are almost exclusively for those we currently use or have used in the past.