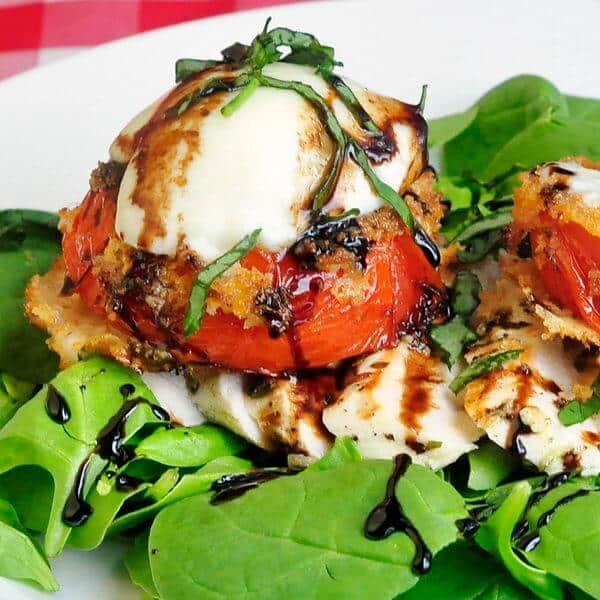 Fried Red Tomato and Grilled Chicken Salad
Everybody knows fried green tomatoes but I originally experienced fried red tomatoes being served as a first course and enjoyed the great, fresh vine ripened tomatoes, crusted in panko and served with shallot and basil sour cream. Last night I was looking to incorporate them into a dinner salad and this was the delicious result. I topped my fried red tomatoes with basil leaves and melting fresh mozzarella and then placed that on a lemon oregano marinated grilled chicken breast, all on a bed of baby spinach and finished with a drizzle of a honey and balsamic reduction. The flavours here are all very bright and fresh and despite the tomatoes being fried, this dish still qualifies as a pretty light but satisfying meal.
If you'd rather bake the tomatoes, place them on lightly oiled parchment paper and bake at 425 degrees F for about 15 minutes, turning once during the baking time.
Lemon Oregano Marinated Chicken
4 boneless skinless chicken breasts
2 cloves minced garlic
3 tbsp fresh chopped oregano
1/2 tsp kosher salt
1/2 tsp cracked black pepper
juice of one lemon
zest of one lemon, finely minced
Marinate all together in a large ziploc bag for only 20-30 minutes. Grill until fully cooked, set aside to rest for 5 minutes
Fried Red Tomatoes
4 medium sized vine ripened tomatoes
sea salt
pepper
panko bread crumbs
flour
egg wash (2 eggs whisked together well with 2 tbsp water)
1/4 cup olive oil
2 tbsp butter
Heat the olive oil and butter in a skillet over medium low to medium heat.
Cut both ends off each tomato and cut each one into two thick slices. Season both sides of the tomato slices with sea salt and pepper before dredging them in flour. Dip the dredged tomatoes into the eggwash and then into the panko crumbs before dropping them into the oil and butter and frying for about 4 minutes per side until crispy golden brown. Top each fried tomato with
fresh basil leaves
slice of fresh mozzarella
Place under the broiler for only a couple of minutes to melt the mozza. Slice your chicken breat and place it on a bed of
Top the chicken with the tomatoes and drizzle with balsamic honey reduction.
Balsamic Honey Reduction
In your smallest saucepan add
1/4 cup balsamic vinegar
2 tbsp honey
Simmer over medium heat until the volume is reduced by almost half. Set aside to cool and thicken slightly.