German Chocolate Cake. This recipe gets a flavourful twist by toasting the coconut and pecans in the caramel filling. It's so much better!
To tell the truth I had not made a German Chocolate cake in many years. It has always been in the back of my mind to add it to this blog but I never quite got round to it.
I did have a couple of requests for my recipe in the last month or so and then the opportunity unexpectedly arose yesterday to do it.
We had plans to go to a friend's house to make Chicken Souvlaki on a new flatbread idea I'm working on. Spouse baked our standard, and very delicious chocolate cake recipe as a 9×13 slab cake that morning to take along.
We were planning on serving it very simply as a slab cake with fresh strawberries and a dollop of whipped cream. Sort of a deconstructed, less fussy to construct, version of our Chocolate Strawberry Shortcake.
Plans got derailed in the morning though, and our friends had to cancel. Now we had a whole slab cake on our hands. What to do with it?
I had not envisioned doing this recipe as a bar cake at all. But after the success of our Spanish Bar Cake recipe, based off the old A&P store bakery classic, I have really warmed to the idea of bar cakes.
German Chocolate Cake, the case for a bar cake version.
I am reminded of my old friend Jean who who came from a family of 7 kids. Whenever a typical round cake hit their table at birthdays and celebrations, her brother would break out his protractor to measure the wedges of cake.
With both parents included, the cake was split into 9 pieces of exactly 40 degrees each!
When you think of it, a round cake is far more difficult to cut evenly. At every family occasion, I am the one who has to cut and serve the cake at the table.
It is incredibly difficult to get even sized pieces. It seems by the time I get halfway around the cake, the slices suddenly are not as wide as when I started.
Perhaps Jean's brother was on to something with that protractor idea! …or maybe the family should have been making bar cakes all along. A ruler is much easier to use than a protractor!
German Chocolate Cake. Getting the flavour right.
Back to the cake at hand. After looking at several other recipes online, I used instead, a very old recipe for the caramel coconut pecan filling from an old cookbook that I'd used before and modified.
I did not like how some of the online recipes used sweetened coconut. To add sweetened coconut to a caramel base is overkill on sweetness I think.
Sweetened coconut is also harder to toast. Because of all the sugar in it, it burns easier and just doesn't have the right flavour.
Toasted coconut brings a great boost to the flavour profile here, as do the toasted nuts. I find it hard to believe that there are so many German chocolate cake recipes out there that do not add this step. It just makes perfect sense to me.
The chocolate frosting on the sides is completely optional, although I much prefer it. Why not bring more chocolate to the party I say?!
Still, it will save a few more calories with just the caramel coconut pecan filling. Many recipes do not use the frosting at all. That's perfectly okay with me. As I always say, "Have it how you like it."
Love homemade cakes from scratch? We've put together a collection of the 25 Most Baked Cakes of the last 12 years on Rock Recipes. You are sure to find several to love.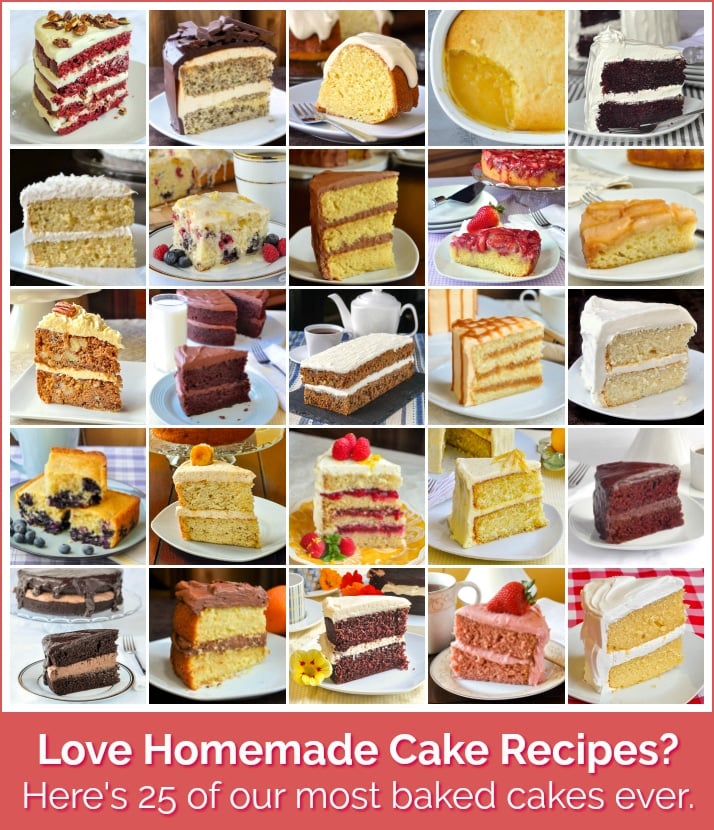 Like this
German Chocolate Cake
recipe?
You'll find hundreds of other sweet ideas in our Cakes & Pies Category and even more in our Desserts Category.
It's easy to keep up with the latest home style cooking & baking ideas from Rock Recipes. Be sure to follow Rock Recipes Facebook Page and follow us on Instagram.
Plus you'll see daily recipe suggestions from decadent desserts to quick delicious weekday meals too.
You can also sign up for our FREE newsletter to know immediately when we add new recipes. You'll get weekly suggestions for great family friendly meals and desserts too!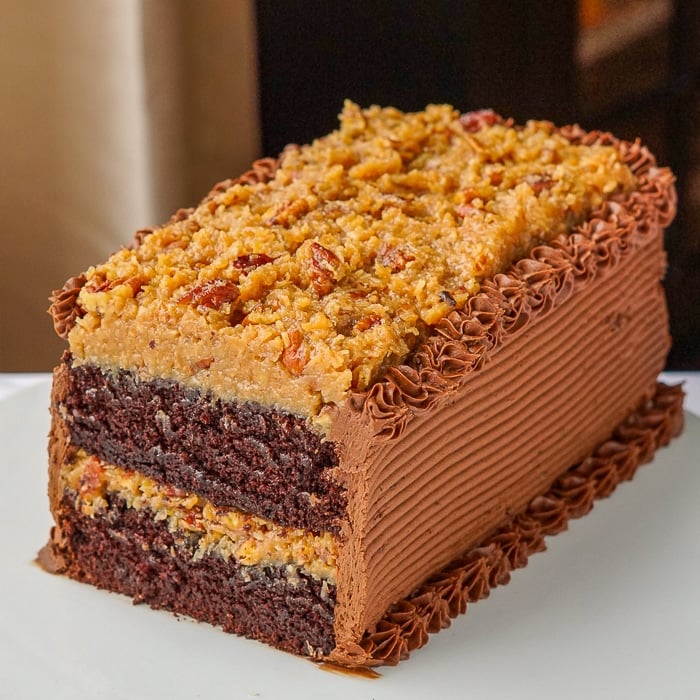 Yield:

24 servings
German Chocolate Cake
Total Time:
1 hour
15 minutes
German Chocolate Cake. This recipe gets a flavourful twist by toasting the coconut and pecans in the caramel filling. It's so much better!
Ingredients
For the Chocolate Cake
2 cups sugar
2 cups all purpose flour
3/4 cup cocoa
2 tsp . baking powder
1 tsp baking soda
1/2 tsp salt
2 eggs
1 cup soured milk (just add a tablespoon of vinegar or lemon juice to the milk)
1 cup brewed black coffee, (or prepare a single cup of instant coffee)
1/2 cup vegetable oil
1 tsp vanilla extract
For the Caramel Coconut Pecan Filling
1 cup brown sugar
1 cup evaporated milk (undiluted, straight from the can)
3 egg yolks
1/2 cup butter, melted
1 tbsp vanilla
2 cups dried coconut, toasted
1 1/2 cups pecans, toasted and rightly chopped (or walnuts)
For the Chocolate Frosting (optional)
1 cup chocolate chips
4 cups icing sugar powdered sugar
4 tbsp cocoa
1 cup butter
2 tsp vanilla extract
3 tbsp milk (approximately)
Instructions
To prepare the Chocolate Cake
This cake can be baked in 2 nine inch round pans or in a 9x13 rectangular pan. The 9x13 will get cut in half lengthwise and the layers stacked if you want to make it as a bar cake.
Combine all ingredients in a mixing bowl and beat with electric mixer for 2 minutes.
Pour into 2 greased and floured 8 or 9 inch cake pans (or one 9x13 baking pan)
Bake at 350 degrees F for 30-35 minutes or until toothpick inserted in the center comes out clean. Cool in pans for 5 minutes before turning out onto a wire rack to cool completely.
NOTE
I've added this note because so many people ask about the coffee in this chocolate cake recipe. The recipe calls for a cup of brewed coffee, meaning prepared as you would drink it. It does NOT mean a cup of ground coffee or a cup of instant coffee granules either; although I always smile when someone asks that because my late friend Anne did that once, bless her soul. Let's just say her husband wasn't impressed!
A little coffee accentuates the flavour of chocolate but if you like, you can just substitute and additional cup of milk for the coffee. It's not a problem.
To prepare the Caramel Coconut Pecan Filling
First toast the coconut and pecans so they can cool before using them. I toast pecans at 350 degrees on an aluminum baking sheet for about 8 minutes or so, turning them once during the toasting time.
I toast the coconut the same way, but toss it about every 3 minutes, so that it toasts evenly. Just keep doing that until the toasted coconut reaches a nice brown colour.
Meanwhile add the brown sugar, evaporated milk, egg yolks, melted butter and vanilla extract to a medium sized saucepan.
Cook over medium low heat stirring constantly until the mixture begins to boil and thicken. I cooked it for about 2-3 minutes after it started boiling well.
It is very important to stir this constantly or it WILL stick to the bottom and burn. I use a silicone spatula to stir and constantly scrape the entire surface of the bottom of the pot to make sure it does not stick in any one place.
Once thickened and bubbling add the toasted coconut and pecans.
Cool the filling to room temperature, stirring occasionally before using it to fill the layers of the cake.
To prepare the Chocolate Frosting
Melt the chocolate chips in a double boiler and let cool back to almost room temperature.
Mix the butter, cocoa and icing sugar together until the butter is broken up well into small pieces and distributed throughout the sugar. It may still look powdery at this point.
Add the melted chocolate chips, vanilla extract and 3 tbsp milk.
Beat together well until smooth, fluffy and creamy. You can add more milk if you want a softer textured frosting or a little more icing sugar if you want a stiffer frosting.
To Construct the Cake
Spread the filling over the centre and top of the cake.
Frost the sides of the cake with the chocolate buttercream icing if adding that option.
Notes
This is quite a rich cake, so I serve it as half slices, usually getting 12 full slices x 2 to get 24 servings in total.
Nutrition Information
Yield
24
Serving Size
1 slice
Amount Per Serving
Calories

526
Total Fat

27g
Saturated Fat

12g
Trans Fat

1g
Unsaturated Fat

13g
Cholesterol

73mg
Sodium

281mg
Carbohydrates

69g
Fiber

3g
Sugar

55g
Protein

5g
The nutritional information provided is automatically calculated by third party software and is meant as a guideline only. Exact accuracy is not guaranteed. For recipes where all ingredients may not be used entirely, such as those with coatings on meats, or with sauces or dressings for example, calorie & nutritional values per serving will likely be somewhat lower than indicated.

Rock Recipes a participant in the Amazon Services LLC Associates Program, an affiliate advertising program designed to provide a means for us to earn fees by linking to Amazon.com and affiliated sites. Our product recommendations are almost exclusively for those we currently use or have used in the past.