Gypsy Tart. It's pie magic! A recipe that's surprising in its simplicity. The easy filling uses just a few common ingredients to produce a tempting Dulce de Leche flavoured custard.
As usual, I'm closely following the Great British Bake-Off and loving the traditional UK desserts I learn more about each episode. Regular readers of Rock Recipes will know that British desserts have become a bit of an obsession for me.
We have had many successes with traditional British "puddings" or "puds" over the years, and they have become very popular with our followers as well. A few of our previous UK dressert hits, have included, Banoffee Pie, English Custard Tart, Prince William's Chocolate Biscuit Cake and of course, our incredibly popular Sticky Toffee Pudding.
I suspect there will many more to come, as I am continuously getting inspired by British puds, the more I learn about them. Bakewell Tarts, for example have also been on my radar for a while. I'll get to that one soon I'm sure.
Origin of Gypsy Tart: School Lunches
Noel Fielding, one of the hosts of The Great British Bake-Off, was quite nostalgic about Gypsy Tart, when one of the contestants baked it for one of the challenges. He remembered the tart fondly as his favourite dessert served at school lunches in the UK.
Over the years of watching British cookery shows, I have heard of many dishes from UK school lunches. That includes many that definitely did not evoke the same nostalgic response.
From stoggy, fatty stews to spam fritters, and more recently, as Jamie Oliver aptly criticized, the notorious Turkey Twizzlers, some of those lunches sound like the thing of nightmares for me. However, I have also very often heard, from both chefs and home cooks alike, a certain fondness for the desserts which always ended those school lunch meals.
Traditional desserts like Jam Roly Poly, Chocolate Sponge with custard, and yes, Gypsy Tart, all seemed to be the reward for surviving the main course! The best memories of school dinners, seem universally centered on these traditional desserts.
Origin tales and myths.
Online research showed that the original recipe came from the Isle of Sheppey in Kent county. I've read that it remains popular there despite being lost or relatively forgotten by much of the rest of the country.
The origin legend of Gypsy Tart, most often centers around a woman who wanted to feed something to hungry traveller children. Another version has the woman herself being a gypsy and the original baker, using common ingredients which she had on hand.
With no definitive proof, you can, like I often do, take those origin stories with a grain of salt. Perhaps nobody really knows for sure.
Super simple with common ingredients but I have a tweak to make baking success a bit easier.
I did try and make this gypsy tart a couple of times to experiment. The original recipe calls simple for whipping together muscovado sugar (a type of brown sugar) and plain evaporated milk for up to 20 minutes.
The instructions for several recipes online said mixture is supposed to get foamy, almost to the point of soft peaks. I did have an issue with that but I think I know the reason.
I whipped the sugar and evaporated milk in my Kitchenaid stand mixer for over 20 minutes with no success. It still remained mostly liquid.
When I looked at brands of evaporated milk from the UK versus here in Canada, it seemed pretty clear that they did not have the same milk fat content. The UK versions always seemed to be about a couple of percent higher in fat than their North American counterparts.
Tweaking the ingredients for Gypsy Tart.
Thinking that was the likely reason, I decided to add some whipping cream into the mix to gauge the result. I also switched to my electric hand mixer to beat the mixture. That's because I thought that would introduce more air into the mix to make it more foamy.
I never did get to the "almost soft peaks" stage that some recipes described. However, I did get it quite foamy and substantially increased in volume. The extra whipping cream addition and the equipment change did the trick!
The resulting pie filling, after cooling and setting, was creamy smooth and luscious. The flavour reminds me strongly of butterscotch or a caramel tasting dulce de leche. It was utterly delicious!
The recipe is quite rich and sweet, so we served it in very small portions, like you would for ultra rich desserts such as cheesecake or pecan pie.
I shared the resulting Gypsy Tart with a couple of friends, who absolutely raved about it. They could not believe it was such a simple recipe.
I have made a couple of other tweaks, like adding a little salt plus a small splash of vanilla extract. I find vanilla always find elevates any caramel type flavour.
Some intrigued family members are already requesting to sample it, so this may become a new option for Sunday dinner dessert in the future. It sure does make a satisfying end to a great comfort food meal.

Blind Baking a pastry crust.
Blind baking a pastry crust means it's crisp and flakey with no soggy bottom!
Tip.
In the UK, Gypsy Tart is almost always made with a sweet shortcrust pastry. However, because the filling is so sweet and rich, I thought that regular unsweetened flaky pastry, like I use in our famous Butter Tarts Recipe, would be a better choice. I saw no reason to add additional sweetness to the crust.
That being said, there's no reason not to use a shortcrust pastry if you prefer. Many bakers find that pastry easier and more forgiving, so that's a good enough reason to use it too.
You can find my recipe for Sweet Shortcrust Pastry here.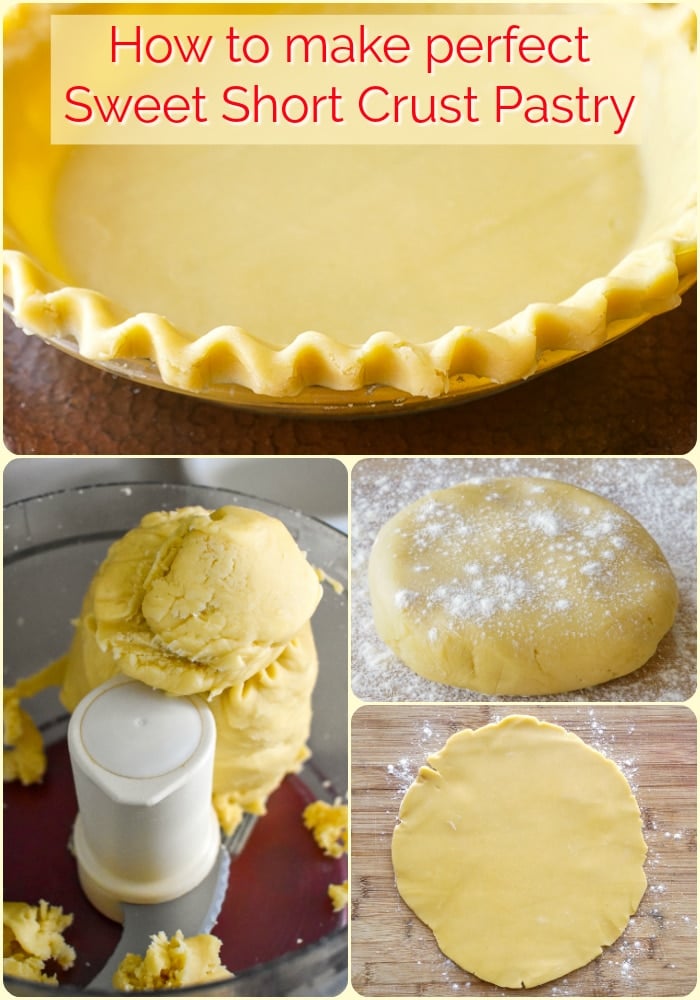 Love amazing pie recipes?
If you are a big pie lover like me, be sure to check our collection of Rock Recipes Best Pies.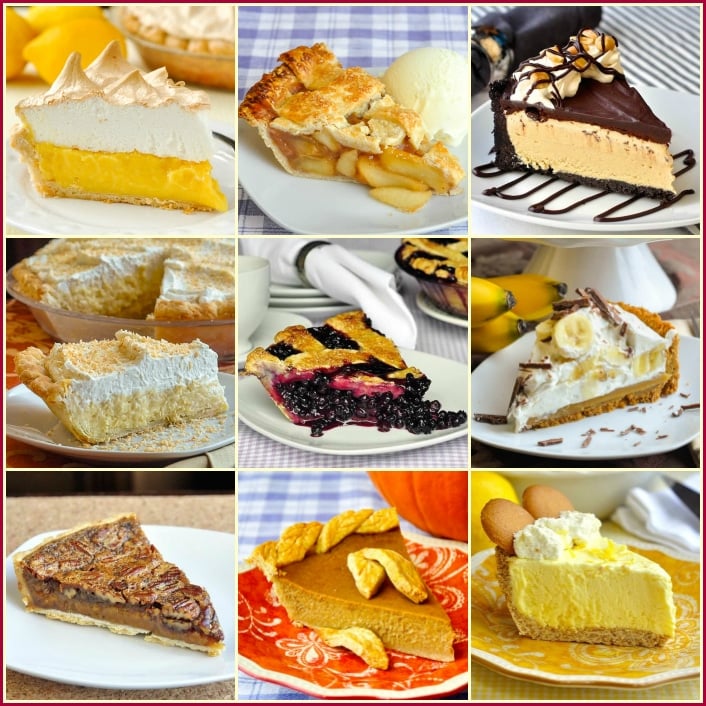 Like this Gypsy recipe?
You'll find hundreds of other sweet ideas in our Cakes & Pies Category and even more in our Desserts Category.
It's easy to keep up with the latest home style cooking & baking ideas from Rock Recipes. Be sure to follow Rock Recipes Facebook Page and follow us on Instagram.
Plus you'll see daily recipe suggestions from decadent desserts to quick delicious weekday meals too.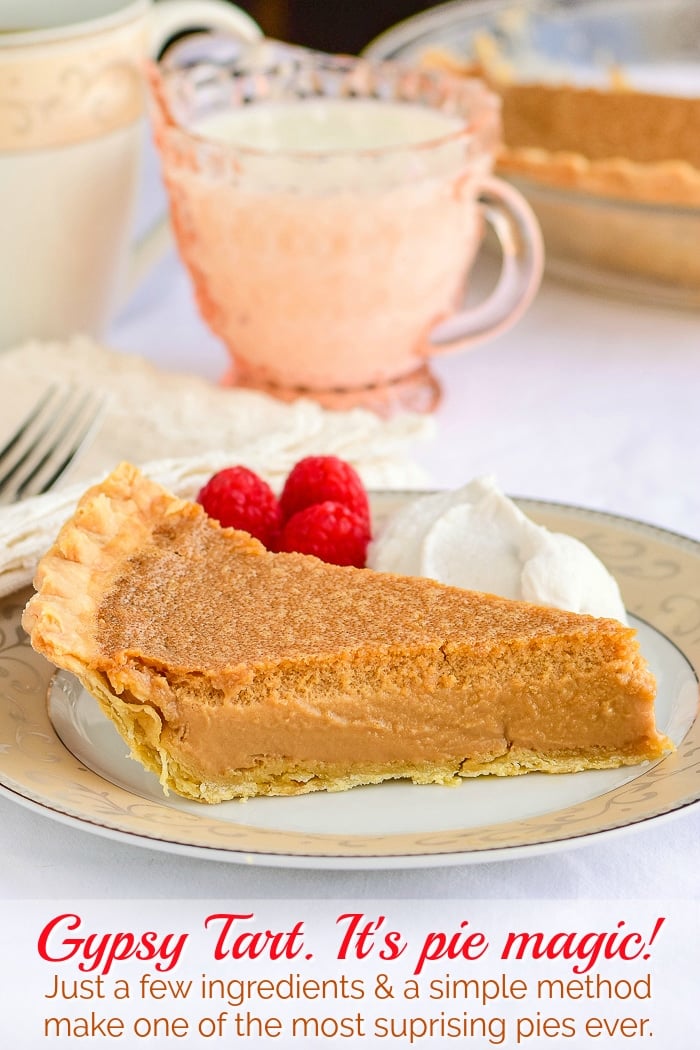 You can also sign up for our FREE newsletter to know immediately when we add new recipes. You'll also get weekly suggestions for great family friendly meals and desserts too!

Rock Recipes a participant in the Amazon Services LLC Associates Program, an affiliate advertising program designed to provide a means for us to earn fees by linking to Amazon.com and affiliated sites. Our product recommendations are almost exclusively for those we currently use or have used in the past.
Visit my Amazon Store for my favourite kitchen gadgets and appliances, plus recommendations from my personal cookbook collection.
Total Time:
9 hours
15 minutes
Gypsy Tart. It's pie magic! A recipe that's surprising in its simplicity. The easy filling uses just a few common ingredients to produce a tempting Dulce de Leche flavoured custard.
Ingredients
For the pastry
1/4 cup very cold butter cut into small cubes
1/4 cup vegetable shortening, cut into small cubes (I keep shortening in the freezer to use in pastry)
1 1/4 cups flour
1/4 tsp salt
3-4 tbsp ice water, Only enough to make a dough form.
For the filling
2 cups lightly packed dark brown sugar (370 grams)
1 1/2 cups very cold evaporated milk, straight from the can, (preferably chilled overnight) (Do not confuse evaporated milk with sweetened condensed milk) (360 ml)
1/2 cup very cold whipping cream (straight from the carton, no need to whip it before adding) (120 ml)
Pinch of salt
1 tsp pure vanilla extract (5 ml)
Instructions
Note
I strongly suggest you read the entire post before trying this tart. There is information about how I tweaked this recipe, that will help you be successful in baking it.
To prepare the pastry
Using a food processor or a pastry blender cut cold butter and shortening into flour and salt until mixture resembles a coarse meal. Small pieces of butter and shortening should still be visible.
Pour cold water over the mixture and work in by tossing with a fork until dough begins to form. Use your hands as little as possible and work the dough as little as possible.
Wrap in plastic wrap and place in the refrigerator to rest for a minimum of 20 minutes. You can make your dough the previous day but make sure you take it out of the fridge for 10 minutes to warm slightly before rolling out.
Roll the dough into a 12-14 inch round and place in the bottom of a 10 inch pie plate.
Push the dough edges down the sides, being careful not to stretch the dough at all. Crimp the edge of the dough however you like.

Blind baking
You will need to blind bake this bottom crust before adding the filling. Blind baking is essential so that the bottom crust will not get soggy.
To blind bake a crust simply place a piece of parchment paper or aluminum foil over the dough and cover the bottom of the pie plate with baking weights. (Marbles, dry beans, peas, rice or barley work just as well as anything else.)
Bake at 375 degrees for about 15 minutes.
Remove baking weights and parchment (or foil) and bake for an additional 5-10 minutes until lightly golden brown.
Remove crust from oven and let cool for a few minutes while you prepare the filling.
To prepare the the filling
Preheat oven to 350 degrees F.
Add all of the ingredients to a chilled metal or glass bowl.
Beat with an electric mixer until very foamy, about 20-25 minutes.
Pour into baked pastry shell.
Bake for 25 minutes. The filling will still be wobbly at this point, this is normal.
Cool the baked tart on a wire rack until it reaches about room temperature
Chill in the fridge for several hours or overnight to let the filling completely set.
Serve with a dollop of whipped cream and fresh berries if you like.
Nutrition Information
Yield
12
Serving Size
1
Amount Per Serving
Calories

312
Total Fat

14g
Saturated Fat

8g
Trans Fat

0g
Unsaturated Fat

5g
Cholesterol

33mg
Sodium

124mg
Carbohydrates

43g
Fiber

0g
Sugar

33g
Protein

4g
The nutritional information provided is automatically calculated by third party software and is meant as a guideline only. Exact accuracy is not guaranteed. For recipes where all ingredients may not be used entirely, such as those with coatings on meats, or with sauces or dressings for example, calorie & nutritional values per serving will likely be somewhat lower than indicated.