Ice Cream Whoopie Pies. A delightfully easy ice cream treat for everyone. We've dressed these up for Easter but you can adapt the idea to any holiday or occasion, like birthday parties!
Rock recipes is pleased to have Chapman's Ice Cream as sponsor of this recipe post. Compensation was provided by the sponsor. All opinions expressed are my own.
With Easter only a week away, I was delighted that Chapman's asked me to write a post featuring one of their products. I decided on this new idea for whoopie pies, which is perfect for Easter but adaptable to any occasion year round.
Whoopie Pies are also a great baking project with the kids. My own kids loved making (and eating) whoopie pies growing up, so I don't know why this idea didn't come to me earlier.
When you think about it, the soft cushiony cookies in a whoopie pie are really more like small cakes. And what goes together better than cake and ice cream?
I chose Orange Pineapple Ice Cream for this occasion because of the beautiful orange colour which looks so great with colourful Easter egg decorations. It also happens to be one of my all time favourite flavours and reminds me of being at my Nan's. It was one of her favourites too.
So many of my family memories, like that, centre around food and celebration which I am sure is true for most people, including the Chapman family who have run their family ice cream business since 1973. You can read all about the story of Chapman's Ice Cream on their website here.
Their website is full of great information for parents like recipes, party tips, and nutritional information. I was amazed to find they had such a huge product range, including treats for folks with various dietary restrictions. Gluten free, peanut free, lactose free and diabetic products are all available from Chapman's! …and all those flavours…it's an ice cream lovers dream.
As I mentioned earlier, I see this recipe idea only as a starting point for custom making your own version or for any occasion. I am now thinking about adding a teaspoon or so of orange zest to the batter and then filling them with Premium Chocolate Fudge Brownie Ice Cream. Chocolate Orange Whoopie Pies!…now wouldn't that be great!
I've added a little buttercream frosting to the top of these, just to pretty them up a little for the occasion, but that is completely optional, as is adding the mini easter eggs to the cookies before they are baked. Either way, it's such a pretty way to celebrate Easter and Spring.
Rather make these with chocolate cookies outside? Try this recipe.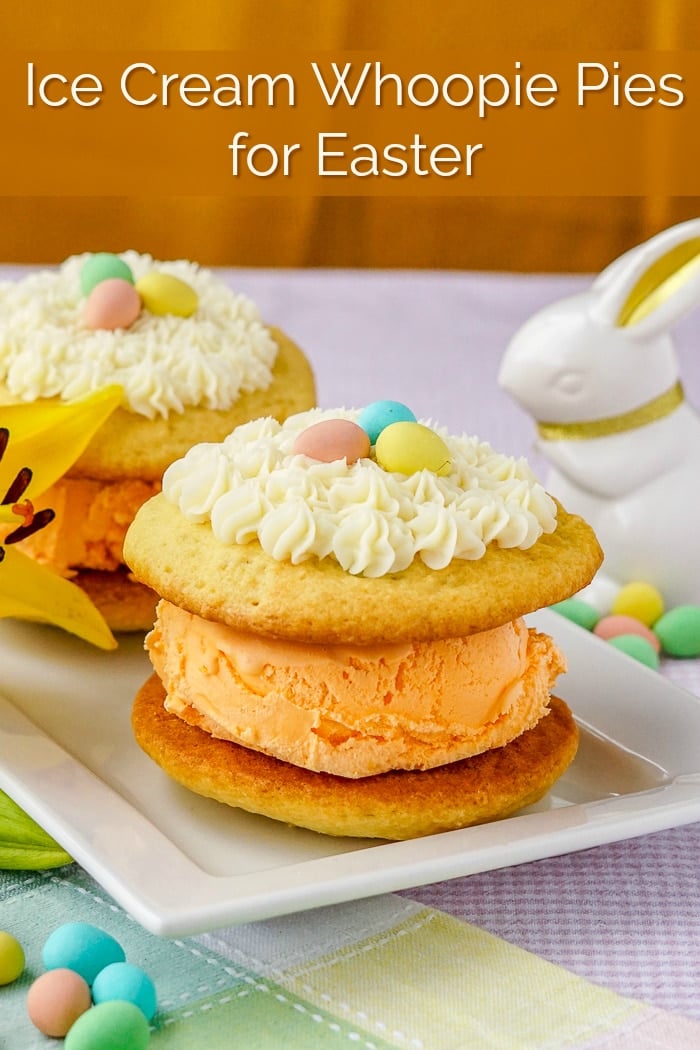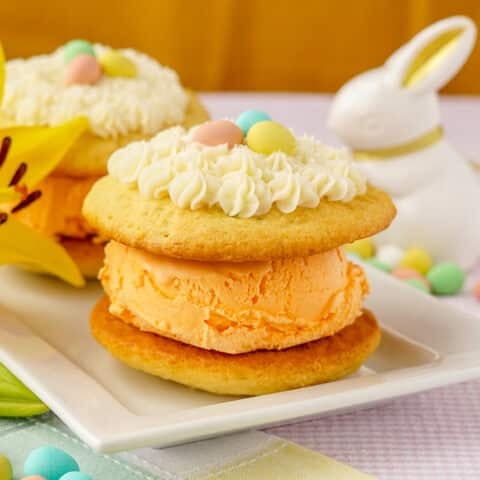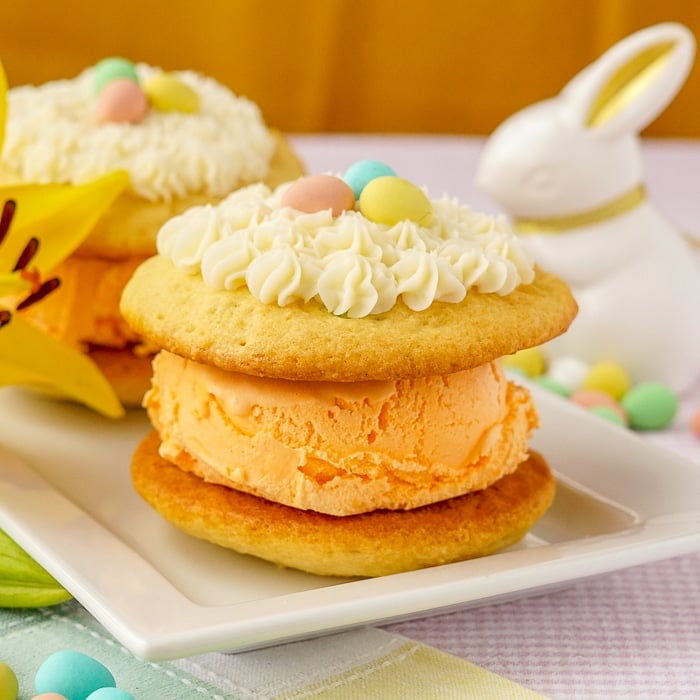 Yield:

6 large whoopie pies
Ice Cream Whoopie Pies
Ice Cream Whoopie Pies. A delightfully easy ice cream treat for everyone. We've dressed these up for Easter but you can adapt the idea to any holiday or occasion, like birthday parties!
Ingredients
For the Whoopie Pie Cookies
2 cups flour
1 tsp baking soda
1 1/2 tsp baking powder
2 eggs
1 cups sugar
1/2 cup cup butter
1/2 cup + 2 tbsp milk
1 tsp vanilla extract
For the Vanilla Buttercream Frosting (optional)
1/2 cup butter
2 cups icing sugar (powdered sugar)
1/2 tsp vanilla extract
2 tablespoons milk (approximately)
You will also need
mini Easter eggs (optional)
4 scoops Chapman's Orange Pineapple Ice Cream
Instructions
To prepare the Whoopie Pie Cookies
Sift together the flour, baking soda and baking powder and set aside.
Cream sugar and butter well.
Add the eggs one at a time, beating well after each addition.
Beat in the vanilla extract vanilla.
Add the dry ingredients to the creamed mixture alternately with the milk, beginning and ending with the dry ingredients.
Drop by heaping tablespoonfuls onto a parchment lined cookie sheets, about 3 inches apart. (A cookie dough scoop is also ideal for this.)
Add a few mini easter eggs to the centre before baking. (optional)
Bake at 350 degrees for about 15 minutes or until cookies spring back when touched with the finger. Let cool before filling with the ice cream.
If frosting the Whoopie Pies, do that right before filling. You can also freeze these in advance but take them out of the freezer for 10 minutes or so before serving.
To prepare the frosting
Simply beat all of the ingredients together until smooth and spreadable. Add only enough milk to get it to the right consistency
This should be a fairly thick frosting, especially if you plan on using a piping bag to decorate. Add only enough milk to get it to the right consistency.
It's easy to keep up with the latest home style cooking & baking ideas from Rock Recipes. Be sure to follow Rock Recipes Facebook Page and follow us on Instagram.

Plus you'll see daily recipe suggestions from decadent desserts to quick delicious weekday meals too.
You can also sign up for our FREE newsletter to know immediately when we add new recipes. You'll also get weekly suggestions for great family friendly meals and desserts too!