Too Tall Neapolitan Cake. Light vanilla cake, filled with layers of strawberry compote & custard, then covered in luscious chocolate buttercream frosting.
Spouse celebrated her birthday yesterday and the day before that we had a snow blizzard here in eastern Newfoundland. So, I had the day off work to make an extra special birthday cake for her.
She had requested the invention of a Neapolitan cake for the occasion. Those classic ice cream flavours of vanilla chocolate and strawberry all in one cake.
My answer was this 6 layer vanilla cake filled with alternating layers of strawberry compote and vanilla custard. Then, it is completely covered in her favourite chocolate Italian buttercream frosting.
A large cake for a special occasion.
Although this was a much bigger baking project than I had planned the cake was a huge success. Some friends and family will get the leftovers today.
This is quite a large cake and will easily provide up to 20 servings easily, perhaps more.
Love homemade cakes from scratch? We've put together a collection of the 25 Most Baked Cakes of the last 12 years on Rock Recipes. You are sure to find several to love.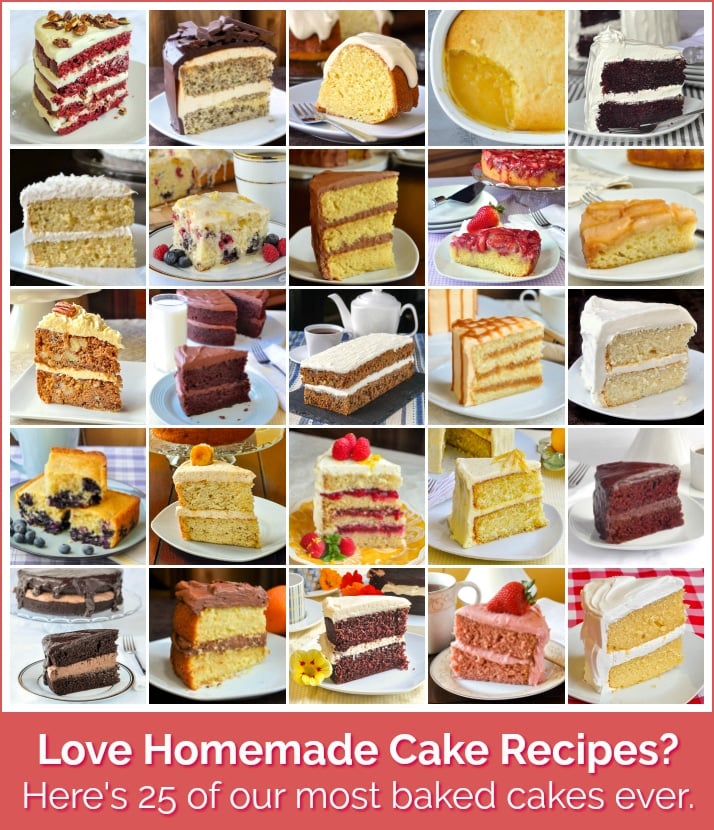 Originally published January 2013. Updated April 2020.
Like this Neapolitan Cake recipe?
You'll find many more delicious ideas like this in our Cakes & Pies Category and even more in our Desserts Category.
It's easy to keep up with the latest home style cooking & baking ideas from Rock Recipes. Be sure to follow Rock Recipes Facebook Page and follow us on Instagram.
Plus you'll see daily recipe suggestions from decadent desserts to quick delicious weekday meals too.
You can also sign up for our FREE newsletter to know immediately when we add new recipes. You'll also get weekly suggestions for great family friendly meals and desserts too!

Rock Recipes a participant in the Amazon Services LLC Associates Program, an affiliate advertising program designed to provide a means for us to earn fees by linking to Amazon.com and affiliated sites. Our product recommendations are almost exclusively for those we currently use or have used in the past.
Visit my Amazon Store for my favourite kitchen gadgets and appliances, plus recommendations from my personal cookbook collection.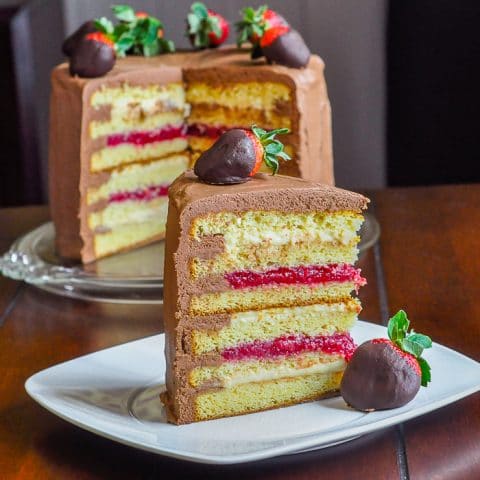 Yield:

20 servings
Too Tall Neapolitan Cake
Prep Time:
1 hour
30 minutes
Total Time:
2 hours
5 minutes
Too Tall Neapolitan Cake - light vanilla cake, filled with layers of strawberry compote & custard, then covered in luscious chocolate buttercream frosting.
Ingredients
For the Vanilla Cake
2 1/4 cups all-purpose flour
1 3/4 cups cake flour
4 tsp baking powder
1/4 tsp salt
1 1/2 cup unsalted butter, at room temperature
3 cups sugar
6 eggs at room temperature
2 tbsp pure vanilla extract
1 1/2 cups undiluted evaporated milk
For the Strawberry Compote
4 cups fresh or frozen strawberries, cut in quarters.
¾ cup sugar
1/4 cup water
2 rounded tbsp corn starch
For the Vanilla Custard
3 cups whole milk
1/3 cup flour
2/3 cup sugar
pinch of salt
3 slightly beaten extra large egg yolks
4 tbsp butter
2 tbsp good quality vanilla extract
For the Chocolate Buttercream Frosting
2 cups sugar
2/3 cup water
6 egg whites at room temperature
¼ tsp cream of tartar
2 tsp vanilla extract
Pinch salt
2 cups softened unsalted butter
1 pound good quality chocolate chopped in small pieces, not milk chocolate
½ cup butter
Instructions
To prepare the Vanilla Cake
Preheat oven to 325 degrees F. Grease and flour three 9 inch cake pans and line the bottoms with parchment paper.
Sift together the flour, cake flour, baking powder and salt. Set aside.
Cream together the butter and sugar very well for several minutes. Scrape down the sides and bottom of the bowl a couple of times during this process.
Add the eggs, one at a time, beating for a bout a minute after each addition. Beat in the vanilla extract.
Gently fold in the dry ingredients in 3 equal portions alternately with the evaporated milk, which gets added in 2 equal portions so that you always start and end with adding dry ingredients.
Divide the batter evenly into the 3 prepared pans. Bake in a 325 degree F oven for about 35-40 minutes or until a toothpick inserted in the center comes out clean. Watch it carefully, you will not want to over bake this cake, as soon as the toothpick comes out clean, remove the cake from the oven and let it rest in the pans for 5 minutes before turning it out onto a wire rack to cool completely. When completely cool, split each layer horizontally to create 6 layers in total.
To prepare the Strawberry Compote
Wash and hull the strawberries and cut them into quarters. Toss the strawberries in the sugar and let sit for 1/2 an hour. This will help to draw the juice from the strawberries before cooking them.
Bring the strawberries and sugar to a very gentle simmer for about 5-10 minutes.
Dissolve the corn starch in the water and slowly add to the simmering strawberries as you stir gently but continuously. Bring the mixture back up to a gentle simmer and cook for an additional minute before removing from the heat and cooling completely. Chill in the fridge when it reaches room temperature.
To Prepare the Vanilla Custard
Scald the milk almost to boiling point in the microwave.
In a medium sized saucepan, combine the flour, sugar and salt. Over medium heat, slowly add the scalded milk whisking constantly. Continue to cook over medium heat until mixture begins to slightly thicken.
At this point remove from heat and pour about a half cup of this mixture onto the beaten egg yolks, whisking constantly. Pour the egg mixture immediately back into the pot with the rest of the custard, continuing to constantly stir. Cook for an additional minute or two until the custard reaches pudding consistency and remove from the flame.
Stir in the butter, 1 tbsp at a time and finally the vanilla extract. Let the custard cool for a half hour, stirring occasionally, before moving it to the fridge to cool completely for a couple of hours.
To prepare the Chocolate Buttercream Frosting
Combine the sugar and water and bring to a gentle boil. Continue to boil over medium heat without stirring until the mixture reaches 240 degrees on a candy thermometer.
Meanwhile, in the bowl of large electric stand mixer, beat the egg whites, cream of tartar, vanilla extract and salt together until stiff peaks form. When the sugar syrup has reached temperature, with the mixer running on medium, slowly pour in the sugar syrup in a thin stream hitting the side of the bowl and not the beaters. Ce very careful as this syrup is very, very hot.
Continue beating the frosting for 15 minutes or longer until the meringue is completely cool. I hold ice wrapped in dishtowels around the bowl as it beats to cool the meringue down more quickly.
While the meringue is cooling melt the chocolate and the 1/2 cup of butter together in a double boiler, stirring often. Heat only enough to melt the chocolate, then remove from the heat. Set aside.
When the meringue in the mixer is completely cool to almost room temperature, slowly begin to add the butter, a few tablespoons at a time, without turning off the mixer.
Slowly mix in the melted chocolate and then continue to beat well at medium high speed until frosting reaches a spreadable consistency. This may take 15 minutes or so and you may have to chill the frosting for several minutes before beating it again to get it to stiffen. Alternatively, you can place the frosting bowl in an ice bath while continuing to beat constantly with a hand held until the icing stiffens sufficiently.
To Assemble the Cake
To assemble the cake, use a piping bag or a Ziploc bag with the corner snipped off to pipe a 1/2 inch wide line of frosting around the perimeter of the first layer of cake. This step is important for each layer because it will keep the fillings from spilling out as you assemble the cake.
Fill the center of the ring with 1/3 of the vanilla custard and place another layer of cake on top.
Again pipe another line of frosting around the perimeter of this layer and fill the center with strawberry compote.
Continue alternating the layers until all six are used.
Frost the entire outside of the cake with chocolate buttercream frosting.
I recommend making this cake the day before serving and chilling it overnight in the fridge, so that it will stand up well and cut cleanly.
Garnish with chocolate dipped strawberries if desired.
Nutrition Information
Yield
20
Serving Size
20 servings
Amount Per Serving
Calories

922
Total Fat

51g
Saturated Fat

31g
Trans Fat

0g
Unsaturated Fat

17g
Cholesterol

198mg
Sodium

239mg
Carbohydrates

108g
Fiber

3g
Sugar

81g
Protein

10g
The nutritional information provided is automatically calculated by third party software and is meant as a guideline only. Exact accuracy is not guaranteed. For recipes where all ingredients may not be used entirely, such as those with coatings on meats, or with sauces or dressings for example, calorie & nutritional values per serving will likely be somewhat lower than indicated.