Newfoundland Christmas Slush. A frosty blend of pineapple and citrus juices frozen together with amber rum to create the base for a delicious, economical Holiday cocktail.
For the last few decades, this Newfoundland Christmas Slush has been an incredibly popular Holiday cocktail. The slush alcoholic base of the cocktail is made well in advance and remind in the freezer to pull out and serve whenever guests pop by.
Perhaps the first I ever sampled many years ago was a citrusy orange and pineapple version. Back in those days, canned pineapple juice and even frozen orange juice showed up in a lot of recipes.
A few I've seen even call for a Newfoundland favourite, pineapple soda, in the recipe. Although, to be honest, I was never tempted to try it.
I prefer to make it with all natural flavours.
Many variations.
There are many different versions of Newfoundland Christmas Slush now to be found. However, Spouse and I are still partial to the original combination of flavours that we knew from the beginning.
This recipe is my attempt to update that old fashioned favourite, this time using fresh golden pineapple as the flavour base.
Newfoundland Christmas Slush might be considered a close cousin to the daiquiri. I suppose with just a splash of soda, it might just be a close approximation.
Most people, when serving it though, will use a portion of the slushy base in a tall glass. Then, it's topped up with club soda, ginger ale or lemon lime soda.
You can easily vary the amount of icy slush to use in each glass. This can be to suit personal preference and to control the alcohol content by adding more or less of the mix.
To mix things up you can even use freshly squeezed seasonal citrus juice like clementines for part or all of the orange juice in the recipe.
Newfoundland Christmas Slush makes a very economical way to serve even dozens of drinks from a single bottle of rum.
And of course summer is coming… eventually! This recipe is equally as good or even better in the hotter days of the year for summer entertaining.
2017 UPDATE!
I've now added a new recipe for Blueberry Rum Slush. Guests to our house during the weeks heading up to the Holidays have raved about it.
It's super simple, uses only a few ingredients, and is far less sugary sweet than a lot of other slush recipes. Highly recommended.
Don't like rum? Make it with Vodka or Gin instead.
Get the Blueberry Rum Slush Recipe here.
2020 Update! We now have yet another new version of this popular seasonal cocktail! Check out this new recipe from our household bartender, my son Noah. Strawberry Lime Slush!
Need more Christmas inspiration?
If you liked this recipe you may also want to check out this post with links to some other Christmas Cookie Favourites in Newfoundland:

Like this Newfoundland Christmas Slush recipe?
Be sure to visit more locally inspired recipes in our Newfoundland Recipes Category.
It's easy to keep up with the latest home style cooking & baking ideas from Rock Recipes. Be sure to follow Rock Recipes Facebook Page and follow us on Instagram.
Plus you'll see daily recipe suggestions from decadent desserts to quick delicious weekday meals too.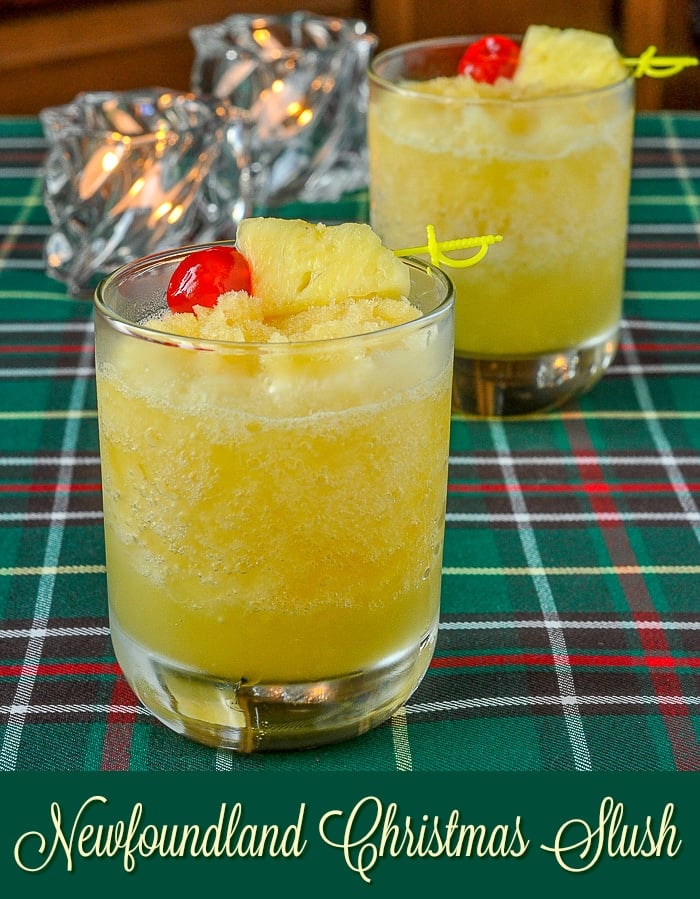 You can also sign up for our FREE newsletter to know immediately when we add new recipes. You'll also get weekly suggestions for great family friendly meals and desserts too!

Rock Recipes a participant in the Amazon Services LLC Associates Program, an affiliate advertising program designed to provide a means for us to earn fees by linking to Amazon.com and affiliated sites. Our product recommendations are almost exclusively for those we currently use or have used in the past.
Visit my Amazon Store for my favourite kitchen gadgets and appliances, plus recommendations from my personal cookbook collection.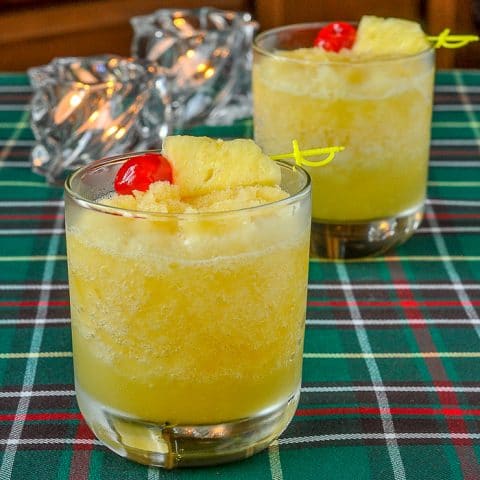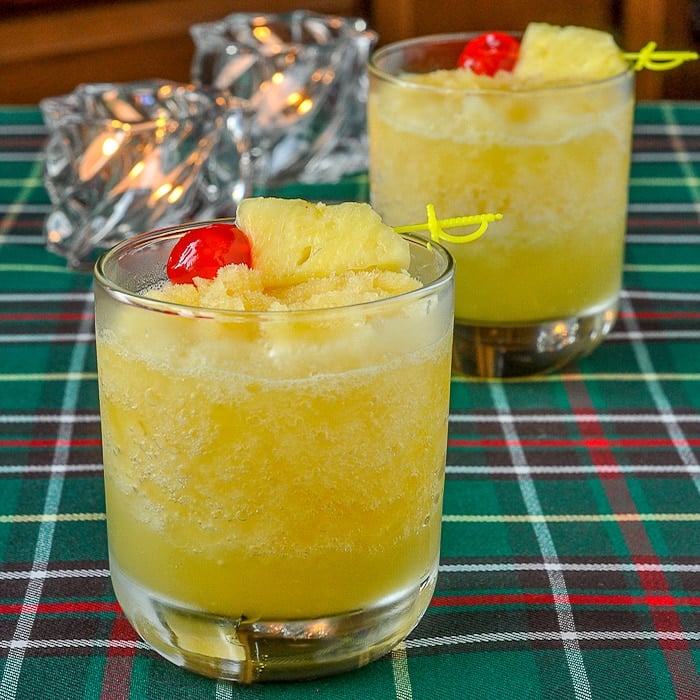 Yield:

30 or more servings
Newfoundland Christmas Slush
Newfoundland Christmas Slush - a frosty blend of pineapple and citrus juices frozen together with amber rum to create the base for a delicious Holiday cocktail.
Ingredients
1 1/2 cups simple syrup, (1 1/2 cup sugar + 1 1/2 cups water)
6 cups fresh golden pineapple cubes, (diced small, about 1 large pineapple)
1 bottle amber rum, (750ml/26oz)
3/4 cup lemon juice
3/4 cup lime juice
3 cups premium quality orange juice
Instructions
First you will need to make the simple syrup so that it can cool down. Simply add the 1 1/2 cups sugar and 1 1/2 cups water to a small saucepan over low heat and stir constantly until all the sugar is dissolved. The syrup does not have to come to a boil. As soon as no sugar crystals are visible in the bottom of the pan, take it off the heat and let it cool to room temperature.
You will need an airtight covered plastic container to make the slush in, and to store it in the freezer. Airtight is important because this slush can stay in the freezer for quite a long time if need be, and you don't want it absorbing freezer odours. Large tupperware bowls with snap on lids work well. Here in Newfoundland, if we are making large batches, we use food grade plastic buckets that salt beef is sold in. Don't assume a salt beef bucket in a Newfoundland freezer has salt beef!
In any case, this recipe makes about 4 litres/quarts of slush so a 5 litre/quart container will be required.
Dice the pineapple into small cubes. Measure 6 cups of these cubes.
Purée the pineapple in a food processor or blender.
Add the pineapple purée to the plastic container along with the cooled simple syrup and the remaining ingredients.

Freezing the slush
Give it a good stir to combine, put the lid on and put the container in the freezer for about 6 hours.
After six hours, ice sheets should be beginning to form in the slush. You want to break these down into smaller crystals. An immersion blender is idea for this, but if you don't have one, a few minutes of vigorous stirring with a whisk should do the trick.
Return to the freezer and after a few more hours, give it another stir. The slush then stays covered in the freezer until ready to serve.
When serving, depending on the size of drink you want to serve, fill the glass from 1/3 to 2/3 full of slush and top up with club soda, ginger ale or lemon lime soda. Stir well and serve
Another serving suggestion is to serve the slush in martini glasses mixed with a splash of Prosecco and a garnish of pineapple and a maraschino cherry.
Notes
Nutritional information does not include the ginger ale or soda used as mix. If using diet soda , then nutrition should be quite accurate.
Nutrition Information
Yield
30
Serving Size
30 or more servings
Amount Per Serving
Calories

133
Saturated Fat

1g
Sodium

11mg
Carbohydrates

20g
Fiber

1g
Sugar

18g
Protein

1g