Rum Raisin Cake. Here's a delicious taste of the Caribbean with a rum soaked raisins baked into a vanilla cake, then soaked in more rum. Enjoy it plain or dress it up with a caramel filling and rum buttercream frosting

.
Inspired by a vacation visit to Jamaica, where it seemed rum cake was in every shop we entered, this amazing raisin cake gets a fine boozy soaking in rum after it is baked. This cake is terrific on it's own, with custard, ice cream or as a frosted cake.
You can adjust the amount of rum that gets soaked into the cake to suit your own taste; I confess I prefer it quite boozy. 😉
Like this recipe?
You'll find plenty of other indulgent ideas like this one in our Cakes & Pies Category or our Desserts Category.
To keep up with the latest home style cooking & baking ideas from Rock Recipes plus daily recipe suggestions from decadent desserts to quick delicious weekday meals, be sure to follow Rock Recipes Facebook Page and follow us on Instagram.
You might also like: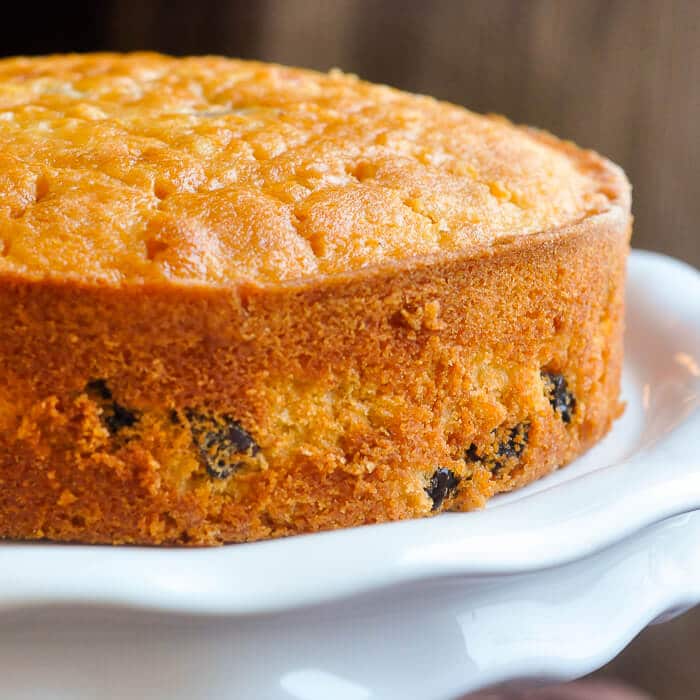 Rum Raisin Cake
Rum Raisin Cake - here's a delicious taste of the Caribbean with a rum soaked raisins baked into a vanilla cake, then soaked in more rum. Enjoy it plain r dress it up with a caramel filling and rum buttercream frosting.
Servings
:
12
or more servings
Ingredients
For the cake
1

cup

raisins

1

cup

dark rum

1 1/2

cups

cake flour

1 1/4

cups

all-purpose flour

2 1/2

tsp

baking powder

1/4

tsp

salt

1

cup

unsalted butter

at room temperature

2

cups

sugar

4

eggs at room temperature

2

teaspoons

vanilla extract

1

cup

undiluted evaporated milk
For the caramel filling
1/2

cup

melted butter

1/3

cup

dark corn syrup

2

tsp

vanilla extract

10 ounce

can

sweetened condensed milk
For the Rum Buttercream Frosting
4

cups

icing sugar

powdered sugar

1

cup

butter

1

tsp

vanilla

3

tbsp

rum

1

to 3 tbsp

milk
Instructions
To prepare the cake
Makes two 9 inch round layers. Grease and flour the pans well and line the bottoms with parchment paper if you like.

Soak the raisins in the rum for several hours or overnight.

Strain the raisins, reserving the remaining rum to soak into the cake at the end.

Sift together the cake flour, all-purpose flour baking powder and salt and set aside.

Cream together the butter and sugar until fluffy.

Add the eggs, one at a time, beating well after every addition.

Beat in the vanilla extract

Gently fold in the dry ingredients in three equal portions, alternately with the evaporated milk. When adding dry and wet ingredients alternately in any baking recipe, always begin and end with the dry ingredients. I generally add the dry ingredients in 3 portions and the milk in 2 portions.

Fold in the rum soaked raisins during the final addition of milk. (You can also fold in 3/4 cup toasted pecans at this stage too if you like)

Pour batter evenly into the prepared 9 inch cake pans.

Bake in a 325 degree F oven for about 30-40 minutes or until a toothpick inserted in the center comes out clean. Watch it carefully, you will not want to overbake this cake, as soon as the toothpick comes out clean, remove the cake from the oven.

Let the cake rest in the pans for 5 minutes before turning it out onto a wire rack to cool completely.

When completely cool, pierce the cake with a wooden skewer all over the surface.

Carefully spoon the reserved rum over the entire surface of the cake.

You can add a little extra rum if you like a wetter cake as is common in Jamaica. Some people prefer to seal the cake in an airtight container for a day before serving.

You can serve the cake as is or frost with buttercream frosting with a little rum added if you like. In the version below, I've filled the cake with a soft caramel.
To prepare the caramel filling
In a small saucepan combine the melted butter, corn syrup and vanilla extract.

Bring to a slow boil until foamy, then add the sweetened condensed milk.

Bring back to a slow boil over medium low heat. and cook stirring continuously for another 15-20 minutes until the mixture darkens slightly and thickens.

It should reach no more than 220 degrees on a candy thermometer or the caramel will harden.

Cool completely before filling the center of the cake. If you pipe a thick line of frosting around the entire perimeter of the first cake layer before adding the filling, it helps to contain the caramel to easier frost the cake.
To prepare the Rum Buttercream Frosting
Blend all ingredients except milk until smooth. Add only enough milk to bring the frosting to a spreadable fluffy consistency.

Frost sides and top of cake after adding the caramel filling and chill well for several hours before serving.