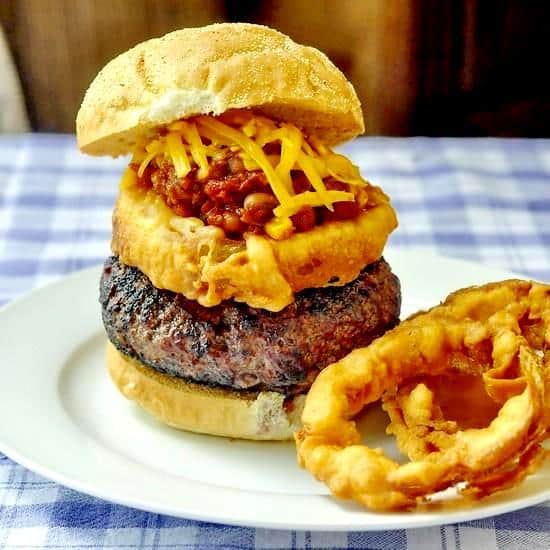 As food jokes go, this one is pretty lame, I have to admit…but since we did have some of this delicious vegetarian chilli on hand to serve a couple of our herbivorous friends and I was in the mood for a big juicy burger, as often we do here, we combined the two.
One of the ways we serve up our vegetarian chilli is spooned into large tempura battered red onion rings. It really is delicious this way and can serve as an appetizer or as a vegetarian main course. On a burger, the large onion ring serves as a vessel to contain the spicy chilli on top. It may have been a collision of herbivores and carnivores at our table but it sure was delicious!
Soak 1 to 1 ½ cups dry 5 bean mix beans overnight, depending on the amount of beans you prefer in your chilli. You may use canned beans if you prefer.

In a large pot heat 3 tbsp olive oil.

Add
6 cloves minced garlic
2 medium red onions

Cook until the onions begin to soften.

Add

1 ½ cups tomato sauce
4 cups crushed tomatoes
2 roasted red peppers chopped
3 ears of grilled corn, removed from cob
1 minced jalapeño pepper( optional)
1 1/2 tsp ground cumin
4 heaping tbsp chili powder
3 tablespoons molasses
Salt and pepper to season
pre-soaked r canned

beans
Simmer very gently over low heat for 1 ½ to 2 hours stirring occasionally. Serve alone or with tortilla chips and garnishes of grated cheddar cheese, sour cream and lime guacamole.
Tempura Red Onion Rings
Heat canola oil in a deep fryer to 350 degrees F or shallow fry in an inch of oil in a deep cast iron frying pan using a thermometer to keep a careful eye on the heat level.
Mix together
1 egg + enough whole milk to make 1 cup
Some lumps in this simple batter is just fine. Let batter stand for 10 minutes before dipping
1

inch rings of red onion
into the tempura batter and then dropping them into the deep fryer. Cook for only a few minutes until light golden brown.