Best Hamburger Buns Recipe. Not too heavy, not too light, not too crusty, not too soft. This is a bun that will stand up to the juiciest, sloppiest burgers without feeling like you've eaten half a pound of bread!
Yeah, so I have a real thing about burger buns. It's one of those things that can really ruin a great burger.
I've eaten more than my fair share of burgers from London to to Toronto to San Francisco and all along the east coast and southern US on many a road trip. Like great wood fired pizza and exceptional donuts, it's one of the things I seek out to see what the best of any locale has to offer.
Even here at home in St. John's there is an annual "Burger Battle" where some of the best restaurants in town compete for public votes for their new burger creations. I've tried dozens of them over the past few years. It's something I look forward to each year.
Wherever I've found great burgers the most likely cause of disappointment, when it occurs, is in the buns. While the composition of the burger pattie, inventive sauces, condiments and tasty additions may be excellent, too often they are let down by a bun that underwhelms.
The problem with some buns.
Sometimes the bun is too crusty, making it difficult to tear into a proper bite without almost destroying the burger. Sometimes they are too light and the bun gets too soggy from the meat juices and sauces.
Other times they are too soft and the buns begin to get doughy as the burger gets compressed while eating.
Occasionally the buns are far too heavy for the amount of filling in the burger. The biggest offender here, I find is the proliferation of the pretzel bun.
Some places do get it right, but in others the weight of the bun is equal or greater than the weight of the meat inside. That just doesn't work for me.
A burger is a heavy enough meal without adding another several unnecessary ounces of bread. I want to finish the whole burger before the bun fills me up.
When I do bake my own burger buns I want a balance of strength, softness, lightness and flavour. In other words the best hamburger buns recipe.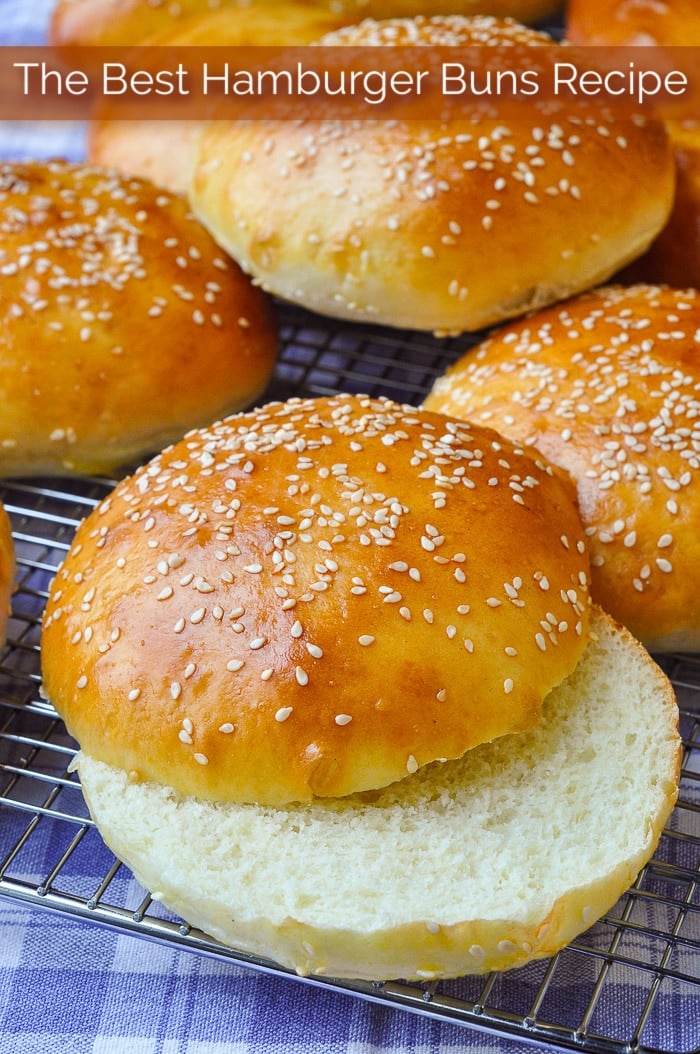 Creating the best hamburger buns recipe.
After experimenting for a couple years, I think I may have cracked the code. It was accomplished with a combination of two recipes.
I started with a recent popular choice for burgers, the brioche bun. I thought the light, buttery, slightly sweet bread, enriched with milk would be a good choice as a jumping off point.
Then, for strength, I decided my standard white bread recipe could be incorporated as well. This combination of good flavour and texture turned out to be a winner.
The tops browned nicely too using an egg wash, which helps sesame seeds stick to the bun as well if you choose to use those. The bottoms of the buns crusted nicely, which is what you really want to provide the strength that will keep the burger from disintegrating as you eat it.
In the end, I thought it was a great attempt at making a very well balanced best hamburger buns recipe. Try it with one of our sloppiest burgers, like our Bacon Burger with Red Onion Jam and Roastd Garlic Mayo, and see if you agree.
Need something to serve with those great burgers?
We have plenty of summer side dish inspiration to explore. Everything from baked beans & corn bread to deliciously different potato and pasta salads. Be sure to check out our collection of 35 Best BBQ Side Dishes .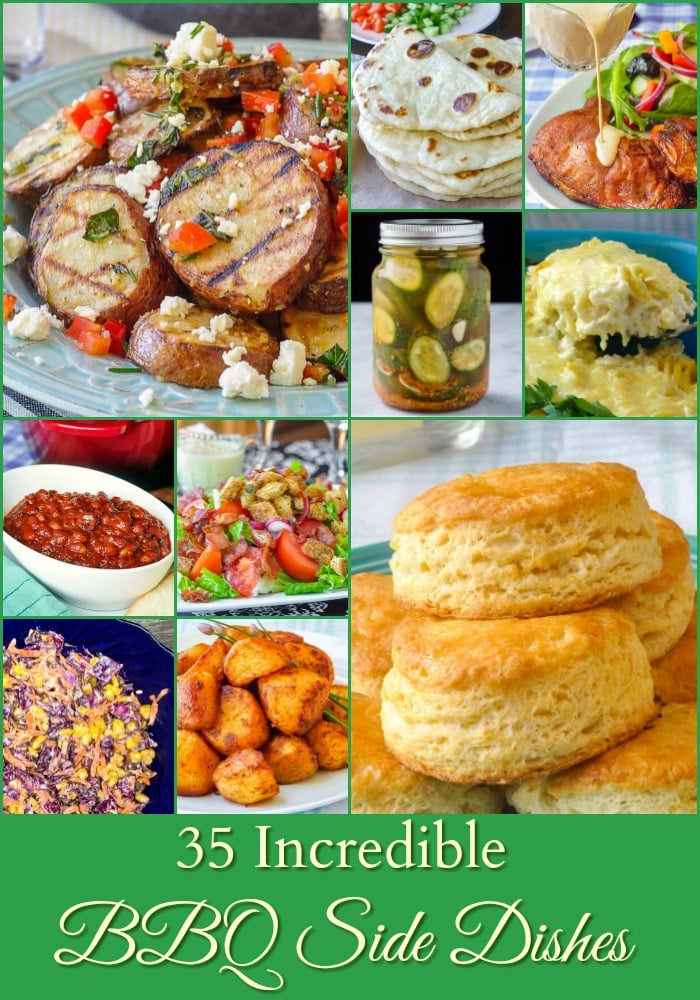 Like this Best Hamburger Buns recipe?
You'll find hundreds of other great ideas in our BBQ & Grilling Category.
It's easy to keep up with the latest home style cooking & baking ideas from Rock Recipes. Be sure to follow Rock Recipes Facebook Page and follow us on Instagram.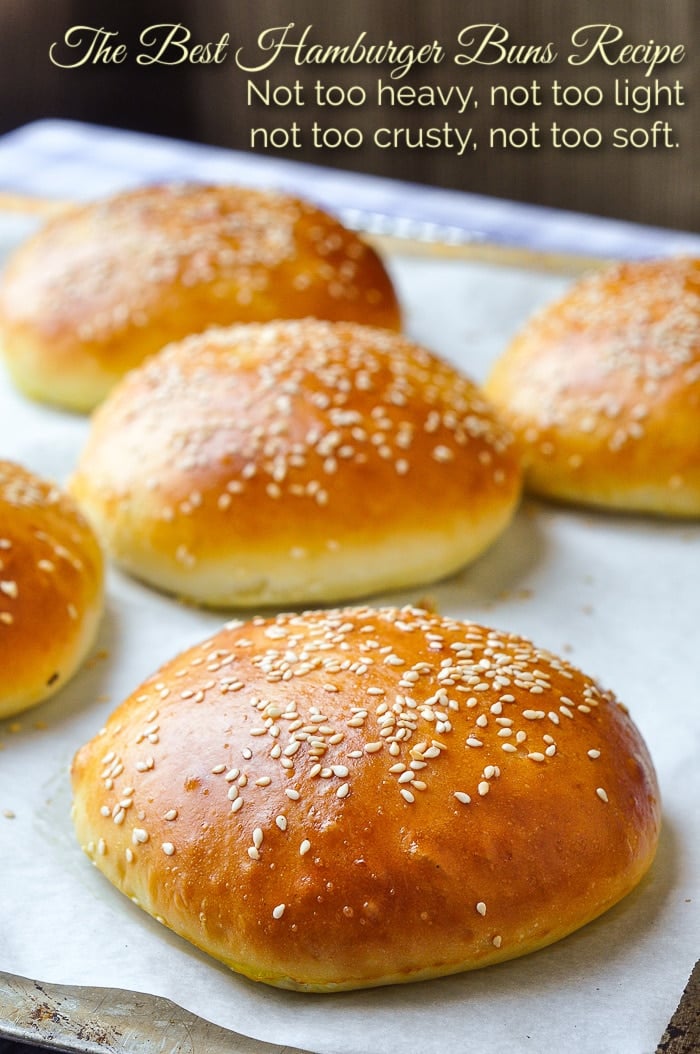 Plus you'll see daily recipe suggestions from decadent desserts to quick delicious weekday meals too.
You can also sign up for our FREE newsletter to know immediately when we add new recipes. You'll also get weekly suggestions for great family friendly meals and desserts too!

Rock Recipes a participant in the Amazon Services LLC Associates Program, an affiliate advertising program designed to provide a means for us to earn fees by linking to Amazon.com and affiliated sites. Our product recommendations are almost exclusively for those we currently use or have used in the past.
Visit my Amazon Store for my favourite kitchen gadgets and appliances, plus recommendations from my personal cookbook collection.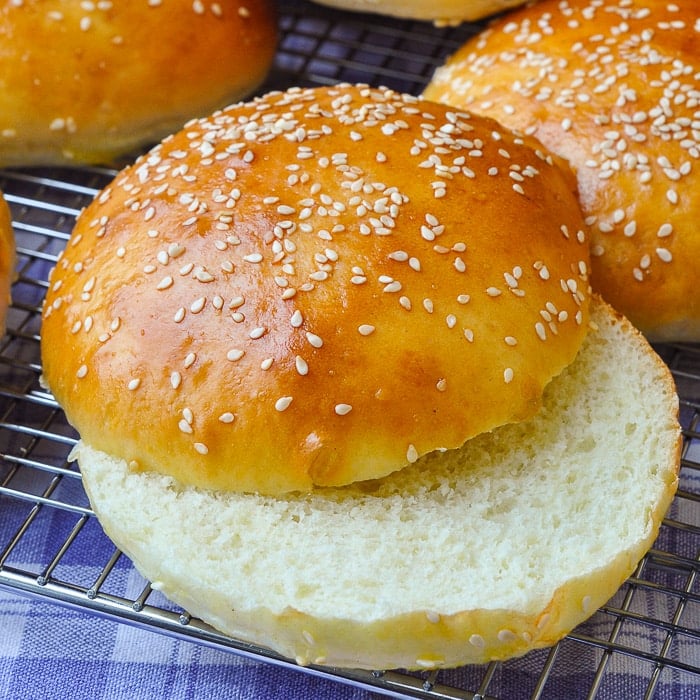 Yield:

12 burger buns or hot dog rolls
Best Hamburger Buns Recipe
Total Time:
3 hours
35 minutes
Best Hamburger Buns Recipe. Not too heavy, not too light, not too crusty, not too soft. This is a bun that will stand up to the juiciest, sloppiest burgers without feeling like you've eaten half a pound of bread!
Ingredients
3 1/2 to 4 cups all purpose flour
1 tsp instant yeast (the kind that you add directly to the other ingredients)
3 tbsp sugar
1 tsp sea salt
1/4 cup softened butter
2 eggs + 1 more for an egg wash at the end
sesame seeds for tops (optional)
1 1/4 cups whole milk (For extra richness and flavor you can use evaporated milk directly from the can without diluting it with water)
Instructions
Add the 3 1/2 cups flour along with all of the other ingredients to the bowl of an electric mixer fitted with the dough hook. (If kneading by hand, mix all of the ingredients together with a wooden spoon and turn the dough out onto a lightly floured surface.
Knead with the mixer on low for 10 minutes, or by hand for the same amount of time.
You can add more flour, a tablespoon at a time, until the dough does not stick to the sides of the bowl. (If kneading by hand, just add the flour a little at a time until a slightly tacky, but not sticky dough forms, it should be easy to handle without sticking to your hands.)
Place the dough in a bowl, cover, and leave in a draft free space for about 60-90 minutes or until it is almost doubled in size.
Forming the buns
Divide the dough into 12 equal pieces. (I weigh the dough to 3 ounces for each burger bun, which I think is the ideal size.)
Form each of the balls into a 3 inch round using your thumbs and forefingers to flatten the dough.
When all of the rounds have been formed, cover them with a clean tea towel and let them rest for 15 minutes. This allows the dough to relax and become more elastic.
After relaxing the dough rounds, further stretch and flatten them to abou 4 to 4 1/2 inches and place them, well separated, about 3 inches apart on parchment paper lined baking sheets (Aluminum baking sheets work best for me, even disposable sheets are good.) (Watch darker pans closely and perhaps reduce the baking temperature by 25 degrees F because these carry heat more quickly and increase the chance of overbaking the bottoms of the buns. If using pans like this I recommend covering them with a layer of heavy duty aluminum foil as I do for cookie baking. If you only have standard aluminum foil, use two layers.)
Resting and preparing the buns for baking
Cover the baking sheets with clean tea towels for another 60-90 minutes until they have risen well and about double in size.
Preheat oven to 350 degrees F.
Whisk together 1 egg plus 1 tbsp of water to create an egg wash. Brush this lightly and evenly over the risen dough rounds.
Sprinkle on the sesame seeds evenly if you are using them.
At this point I sometimes lightly score the tops with razor blade or bread lame. This is optional, but will often allow for a better rise when baking.
Baking
Bake for 15-20 minutes until the buns are evenly golden brown. Check the bottoms after the first 15 minutes by using an egg turner to lift a bun and check the color of the bottom. If it starts to get too dark, take the buns out of the oven even if they are lightly browned on top. It is most likely they are fully balked if the bottoms are well browned.
Let the buns cool completely on a wire rack before using.
Notes
I use the same weight of dough to make hot dog rolls. Just roll the dough into even logs about 6 inches long and follw the same instructions for baking. Hot dog buns may bake a little faster so check them a little earlier.
Nutrition Information
Yield
12
Serving Size
1
Amount Per Serving
Calories

207
Total Fat

6g
Saturated Fat

3g
Trans Fat

0g
Unsaturated Fat

2g
Cholesterol

44mg
Sodium

248mg
Carbohydrates

32g
Fiber

1g
Sugar

5g
Protein

6g
The nutritional information provided is automatically calculated by third party software and is meant as a guideline only. Exact accuracy is not guaranteed. For recipes where all ingredients may not be used entirely, such as those with coatings on meats, or with sauces or dressings for example, calorie & nutritional values per serving will likely be somewhat lower than indicated.