No Knead Pizza Dough. Makes itself overnight while you sleep! The easiest way to soft, tender pizza crust with a crispy bottom.
Originally published May 2020.
Full disclosure, right off the top. This is not a new recipe, it is just a different way to use the dough from our very popular No Knead Bread.
I discovered several years ago that the same dough for the bread also makes phenomenal pizza crust.
I am very, very fussy about pizza crust. To begin with, the crust should be thin, but soft at the edges and with a nice crisp bottom.
There's nothing worse than a soggy, or thick and doughy pizza crust.
Like a good New York style pizza the crust should be substantially strong enough to hold the toppings without them dropping into your lap because of a limp pizza crust. You should even be able to fold it over like a true New yorker, eating pizza on the go.
A good pizza crust should be a good balance between softness at the edges and a crispy bottom. Good pizza crust should also have some bite to it. A pleasing chewiness without being tough is also essential.
The pizza pictured above is one of our family favourites for many years and the one pizza we make most often. Get the recipe for our BBQ Chicken Pizza here.
A pizza stone is an essential tool
I have always used a pizza stone at home to make pizza. It is the only way to get a restaurant worthy pizza at home.
A metal pizza pan can make an acceptable pizza. However, that perfect crust has to cook super fast in order to get the right bottom crispiness and texture.
That's where a pizza stone is the right tool for the job.
I'm also including some tips and method for using a pizza stone. Follow them and you'll have pizzeria worthy pizza every time.
Use No Knead Pizza DOugh to start your own gourmet pizza night!
Pizza night is something we do on almost a weekly basis year round. In recent years we have really upped our pizza game and you should let your creativity take the wheel when dreaming up new pizza combinations.
Just the other night my son Noah made a batch of this dough and a batch of Alfredo Sauce too! Thinking outside the standard tomato sauce can result in amazing results.
Try things like pesto, garlic oil or the Alfredo sauce used in this one.
Topping the dough and alfredo sauce on this occasion were, pepperoni, prosciutto, kalamata olives and fresh mozzarella. When it came out of the oven we finished it with a light drizzle of organic honey and some chopped fresh basil.
It truly was one of the best pizzas I have ever sampled!
If you liked this pizza crust recipe, you'll want to use it for one of our family favourites inspired by a local Neapolitan style pizzeria. Our Caramelized Pear & Prosciutto Pizza is a sweet and salty feast for the senses. It's definitely not boring pizza!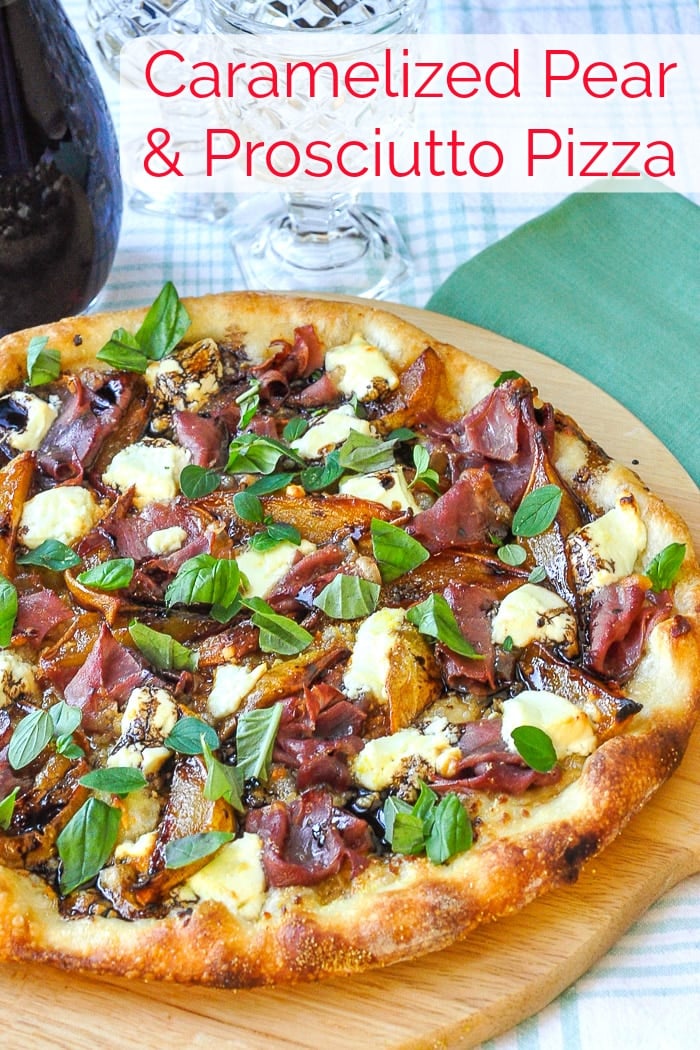 Like this No Knead Pizza Dough recipe?
You'll find hundreds of other great ideas in our Quick & Easy Dinners Category and even more in our Chicken Recipes Category.
It's easy to keep up with the latest home style cooking & baking ideas from Rock Recipes. Be sure to follow Rock Recipes Facebook Page and follow us on Instagram.
Plus you'll see daily recipe suggestions from decadent desserts to quick delicious weekday meals too.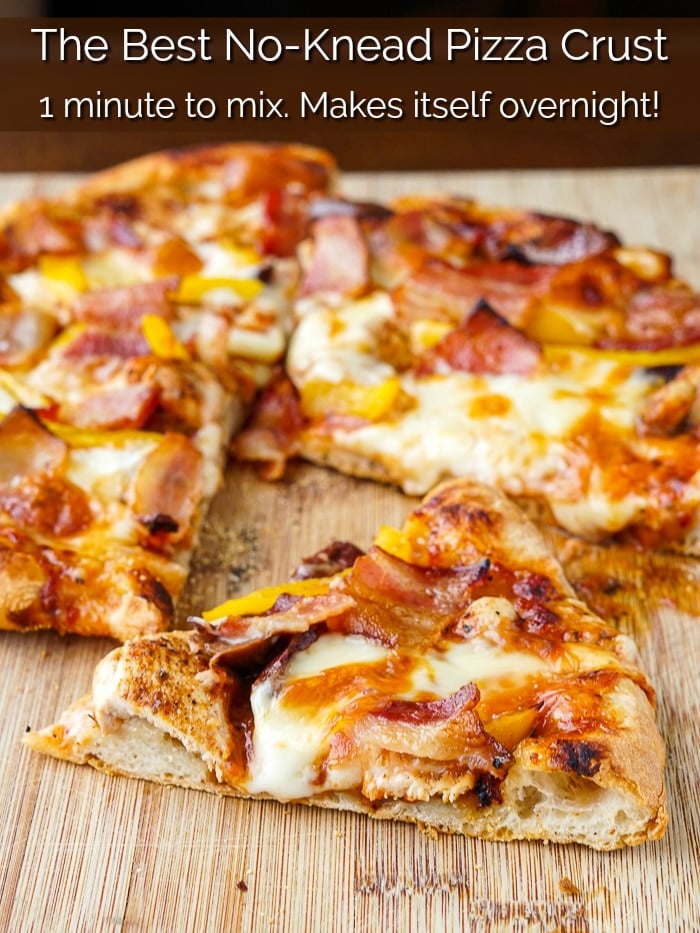 You can also sign up for our FREE newsletter to know immediately when we add new recipes. You'll also get weekly suggestions for great family friendly meals and desserts too!

Rock Recipes a participant in the Amazon Services LLC Associates Program, an affiliate advertising program designed to provide a means for us to earn fees by linking to Amazon.com and affiliated sites. Our product recommendations are almost exclusively for those we currently use or have used in the past.
Visit my Amazon Store for my favourite kitchen gadgets and appliances, plus recommendations from my personal cookbook collection.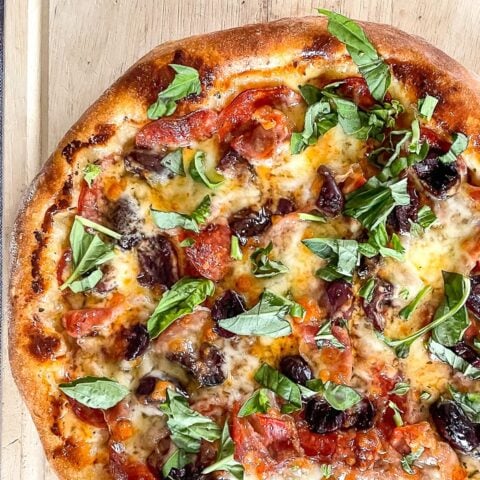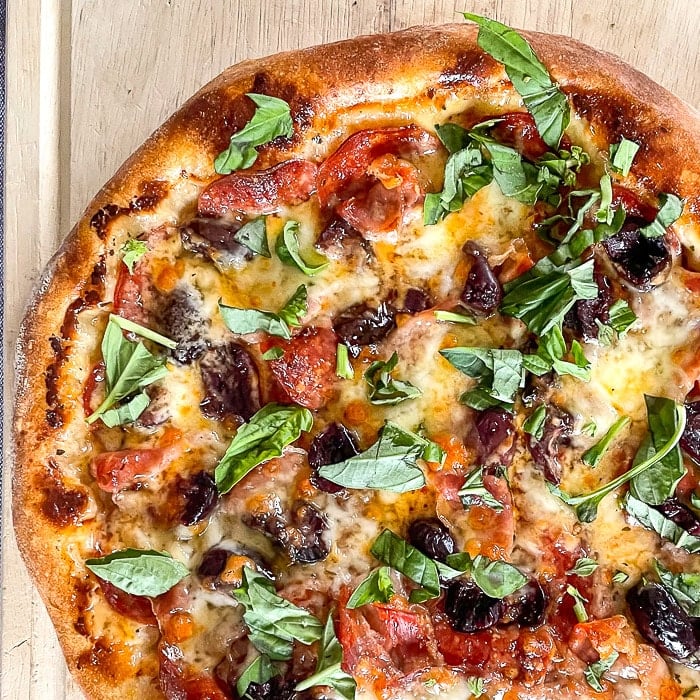 Yield:

9 servings (three 12 inch pizzas)
No Knead Pizza Dough
Total Time:
4 hours
15 minutes
No Knead Pizza Dough. Makes itself overnight while you sleep if you want! The easiest way to soft, tender pizza crust with a crispy bottom.
Ingredients
3 1/2 cups all-purpose flour or bread flour
1 1/2 teaspoons salt
1/4 tsp of instant yeast (the kind you just add to flour, not the kind that needs to be proofed in warm water first)
1 1/2 cups water at room temperature or a little cooler. It should not be warm.
Metric measurements
490 grams plain flour or bread flour
1 1/2 tsp salt
1/4 tsp yeast
360 ml water
Instructions
In a large bowl, mix together the flour, salt and yeast.
Add the water and stir with a wooden spoon until everything combines together into a soft dough. It really does take less than a minute.
Cover the bowl with plastic wrap and leave overnight. I have left it rising for 12- 15 hours many times. The time here is quite forgiving. Somewhere in that time window or even an hour or so before is fine.
Forming the dough
To form the dough into a ball, turn it out onto a well floured surface. The dough will be VERY sticky at this stage, so don't be afraid of using lots of flour on the board. Flouring your hands often also helps.
Sprinkle flour over the surface of the dough. Enough so that you can pat the dough without your hands sticking.
Pat the dough flat into what ever shape it goes. The shape is not important.
Begin folding the dough over on itself until a rough ball forms.
Cut the ball of dough into 3 equal pieces. I usually use a kitchen scale and weigh them. They are usually around 9-10 ounces (270-300g). Each of the three balls is sufficient for a 12-13 inch pizza.
Shape the three pieces into balls and let rest on the counter for 15-20 minutes before using.

To make pizza
Preheat pizza stone in a 500 to 550 degree F oven for 20 minutes.(260 degrees Celsius)
Stretch or roll 1/4 of the dough into about a 12-13 inch round.
Place the round on a wooden peel that has been well sprinkled with cornmeal. The cornmeal will allow the pizza to slide off the peel (I've even used a thin piece of cardboard in a pinch if you do not have a peel.) Make sure your pizza is sliding well on the cornmeal base before adding your toppings.
Add the sauce, cheese and toppings. (You'll note that I dice my cheese in pieces for pizza. Grated Cheese can sometimes scorch too much in the high heat.)
Shake your peel to make sure the pizza is not stuck. Slide the pizza onto the hot stone, shaking it slightly in a back and forth motion as you slowly retract the wooden peel.
Bake for about 8-10 minutes or until the bottom is evenly brown and the top cheese begins to brown slightly. Remove from oven and allow to stand for 5 minutes.
If using the dough later in the day, refrigerate the dough and take it out about 30-60 minutes before you use it.
There is also quicker method to make this dough. See notes below.
Notes
There is a quicker version of this recipe which only takes 4 hours rising time. Simply increase the yeast from 1/4 tsp to 1 tsp.
The nutritional information pertains only to the pizza dough. Toppings should be calculated separately.
Nutrition Information
Yield
9
Serving Size
1
Amount Per Serving
Calories

199
Total Fat

1g
Saturated Fat

0g
Trans Fat

0g
Unsaturated Fat

0g
Cholesterol

0mg
Sodium

390mg
Carbohydrates

42g
Fiber

2g
Sugar

0g
Protein

6g
The nutritional information provided is automatically calculated by third party software and is meant as a guideline only. Exact accuracy is not guaranteed. For recipes where all ingredients may not be used entirely, such as those with coatings on meats, or with sauces or dressings for example, calorie & nutritional values per serving will likely be somewhat lower than indicated.