Pork Souvlaki with Lemon Oregano Tzatziki. With marinated pork strips that cook in only about 2 minutes, this is a delicious super-fast way to enjoy a souvlaki dinner at any time of the year.
This super simple pork souvlaki recipe shows that you can have a very fast flavourful dinner on the table at any time of the year. We mostly make chicken souvlaki around here, especially in the summertime, when we have access to the backyard grill.
I just love the extra smoky flavour the chicken gets from a good char on the grill. Our deck is usually so full of snow in the winter that grilling's not an option.
The summer also has the benefit of having access to a selection of fresh herbs that I keep in a contained bed just outside the kitchen door. Fresh chives, oregano, mint or other herbs are always close by to add to a souvlaki marinade or to the accompanying tzatziki.
In the winter, we don't forego one of our family's favourite dinners, we just adapt to the possibilities at hand. Very often I do use the oven broiler, bringing the pieces of chicken or pork close to the heat source to cook incredibly quickly.
Most often though, I use a searing hot, lightly oiled cast iron grill pan which gives great sear marks to the meat and cooks the thin strips in only a minute or so each side. The only caution here is to get the pan very hot before you use it and make sure that exhaust fan over your stove is set to maximum or else you may smoke out your kitchen.
Believe me, I've set off the main floor smoke alarm more than once myself!
Dried herbs are fine.
While fresh herbs are now more readily available in supermarkets year round, they can tend to be quite pricey. No worries, a little dried oregano and some lemon zest will add more than enough flavour to the thick, yogurt based tzatziki which is so delicious served with this meal.
We most often serve the pork souvlaki and the tatziki on flatbreads or pita bread to roll into wraps along with fresh tomatoes, spinach, onions, peppers, cucumber, olives and of course some feta cheese. Don't let the time of year get you down, a fresh flavourful meal is just the ticket to help break the winter dinner doldrums.
If you do have access to a grill or if you again want to use and uncoiled cast iron grill pan, you can learn how to make Homemade Flatbreads here.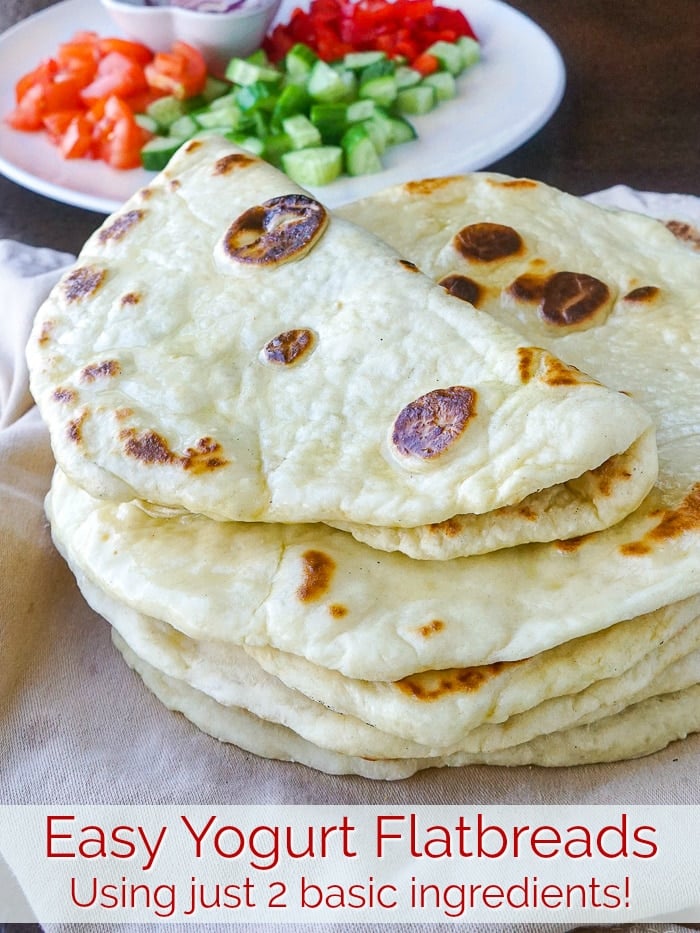 UPDATE:
Most recently, I have been making these 2 Ingredient Yogurt Flatbreads, which are equally soft and delicious with no yeast and far less time to prepare. You'll want to make them too!
If you'd like to try another of our delicious pork recipes, this one, from my first cookbook is always a consistent hit! Rum Spice Glazed Pork Tenderloin.
Like this Pork Souvlaki recipe?
You'll find hundreds of other great ideas in our Quick & Easy Dinners Category and even more in our Pork Recipes Category.
It's easy to keep up with the latest home style cooking & baking ideas from Rock Recipes. Be sure to follow Rock Recipes Facebook Page and follow us on Instagram.
Plus you'll see daily recipe suggestions from decadent desserts to quick delicious weekday meals too.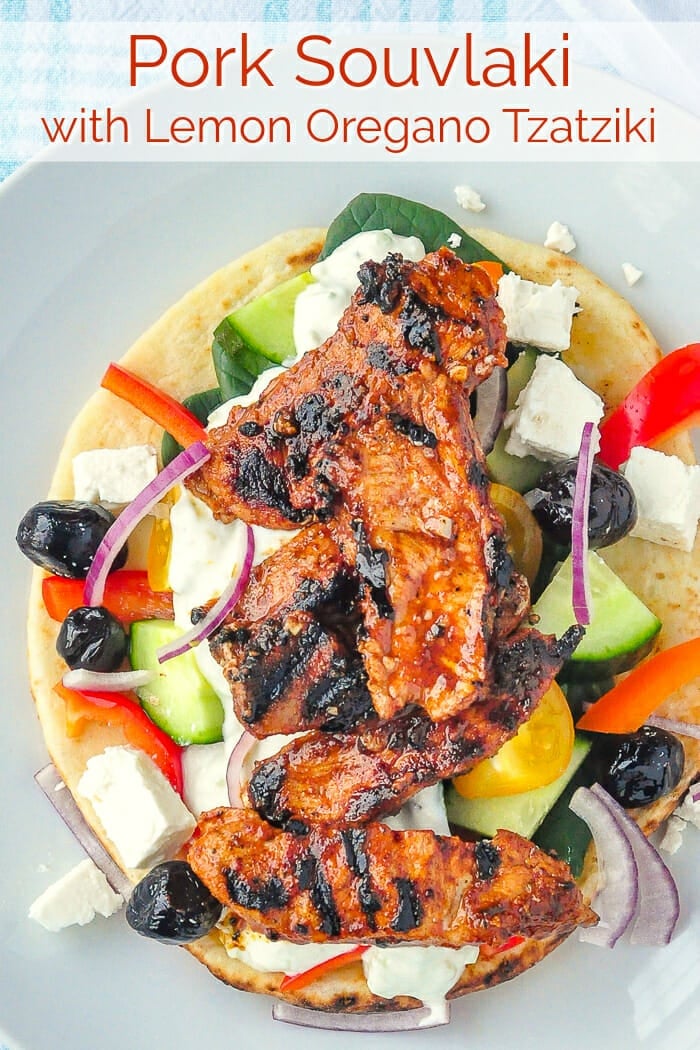 You can also sign up for our FREE newsletter to know immediately when we add new recipes. You'll also get weekly suggestions for great family friendly meals and desserts too!

Rock Recipes a participant in the Amazon Services LLC Associates Program, an affiliate advertising program designed to provide a means for us to earn fees by linking to Amazon.com and affiliated sites. Our product recommendations are almost exclusively for those we currently use or have used in the past.
Visit my Amazon Store for my favourite kitchen gadgets and appliances, plus recommendations from my personal cookbook collection.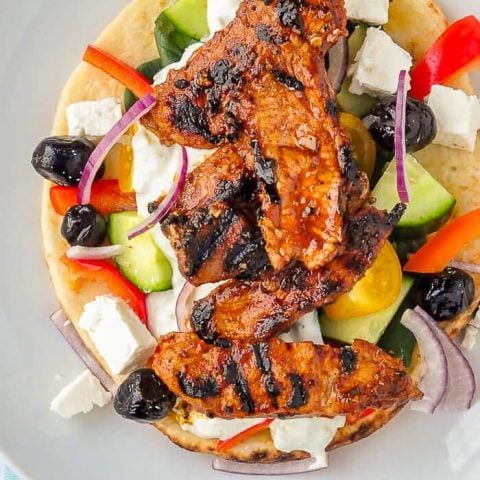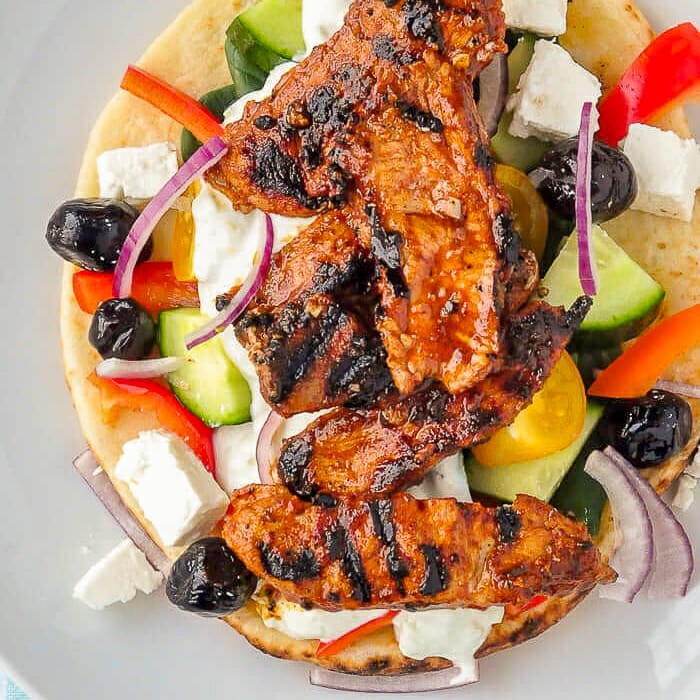 Yield:

6 servings
Pork Souvlaki with Lemon Oregano Tzatziki
Marinating time:
20 minutes
Pork Souvlaki with Lemon Oregano Tzatziki - with the pork strips cooking in only about 2 minutes, this is a delicious super-fast way to enjoy a souvlaki dinner at any time of the year.
Ingredients
2-3 lbs pork sirloin or tenderloin, cut into 1/4 inch thick strips
For the Souvlaki Marinade
6 tbsp fresh lemon juice
3 tbsp olive oil
2 tbsp balsamic vinegar
½ tsp kosher salt
1 tbsp rounded smoked paprika
1 tsp freshly ground black pepper
3 cloves minced garlic
For the Lemon Oregano Tzatziki
3 cups Greek yogurt, drained.
6 inch piece of English cucumber
1 tsp dried oregano leaves
2 cloves minced garlic
3 tbsp fresh lemon juice
zest of half a lemon, finely minced (optional)
2 tbsp olive oil
pinch salt and pepper to season
Instructions
I like to cut the pork to about a quarter inch thickness to provide as much surface space as possible to accept the marinade and increase the flavour. I then cut the thin marinated pork into about 1 x 3 inch pieces.
To prepare the Souvlaki Marinade
Mix all of the ingredients together and pour over the pork in a Ziploc bag or in a shallow glass dish. Toss the pork around well in the marinade to coat on all sides.
Marinate in the fridge for 20 minutes to an hour.
Cook on a preheated, lightly oiled grill pan at high heat for about only a minute or so per side.
Serve with a Greek Salad, flatbread and tzatziki.
To prepare the Lemon Oregano Tzatziki
Draining the yogurt removes much of the liquid and produces an end product about the consistency of thick sour cream. To drain the yogurt, line a colander with several layers of cheesecloth (or in a pinch, several large coffee filters) Pour the yogurt into the colander and place it in a large bowl or in the sink for an hour or two. this should produce about 2 cups of thick yogurt.
Peel the piece of cucumber and remove the seeds and pulp at the center with a teaspoon, then dice the outside flesh of the cucumber into small cubes of ⅛ inch or less.
Sprinkle 1 teaspoon of kosher salt over the diced cucumber and toss together well. Let this rest for about a half hour, stirring occasionally. This process removes some of the liquid from the cucumber so that it will not water down the consistency of your finished tzatziki.
Drain all of the liquid off the diced cucumber before adding it to the drained yogurt along with the dried oregano, garlic, lemon juice, zest, olive oil, salt and pepper.
Mix well, cover and store in the fridge for at least a half hour before serving. I often make the tzatziki a day ahead to let the flavours develop.
Nutrition Information
Yield
6
Serving Size
6 servings
Amount Per Serving
Calories

373
Saturated Fat

4g
Cholesterol

105mg
Sodium

307mg
Carbohydrates

8g
Fiber

1g
Sugar

5g
Protein

45g