Slow Roasted Dry Rubbed Pulled Pork. A simple, dry rubbed pulled pork recipe that lets you enjoy smoky spicy flavour all year long from your oven.
Winter persists here in the Far Northeast. The calendar may say Spring but the foot and a half of snow we had this week insists it is not.
It's going to be a while still before the several feet of snow melts from my back deck. Only then will the gas grill and smoker be put to use.
To bridge the gap, I came across this idea from Chef Perry Perkins. He slow roasts dry rubbed pulled pork in the oven for a very long time. Similar to how you would in a temperature controlled smoker.
While the original idea calls for the use of liquid smoke in the liquid under the pork, I've never really liked it plus It will fill your house with a smoky scent that may persist for some time.
Instead I used a dry rub that uses smoked paprika to provide some delicious smoky flavour.
This is the same idea that I used for our incredibly popular Foolproof Dry Rubbed Oven Ribs.
You really do need to use a large piece of meat for a recipe like this, it really won't work well with a small pork roast for example. I used a whole pork shoulder that was about 8 pounds.
The cooking time will vary depending on the size of your particular piece of meat but like when I smoke pork shoulder, up to 2 hours per pound is recommended.
I took this one out of the oven at 14 hours which was 1 hour and 45 minutes per pound and it was perfect. The pork will mostly stay together as a whole but should pull apart easily. On a meat thermometer 190 – 200 degrees F should be perfect.
This recipe got the approval of my pulled pork loving son. We made some great pulled pork sandwiches with the addition of a little of my Maple Chipotle Barbecue Sauce.
One of the best reasons to make pulled pork, especially on the weekend is for the leftovers that it provides for easy meals early in the week. We used some of our frozen pizza dough to make pulled pork pizza very much like this one.
Pulled Pork Nachos are also one of our family's favourites and we've used it in great calzones too.
If you like the idea of this recipe, try the same idea on some succulent slow cooked ribs too.
The recipe here makes about 2 cups of rub so you can scale it down if you like but I like to keep it on hand for terrific roast chicken, chops or even burgers. You will find many ways to use it.
I just keep a supply on hand in a mason jar in my spice drawer. It also makes a wonderful thank-you gift if someone invites you to dinner. You're sure to receive another invite before long.
What to serve on the side?
We have plenty of side dish inspiration to explore. Everything from baked beans & corn bread to deliciously different potato and pasta salads. Be sure to check out our collection of 35 Best BBQ Side Dishes .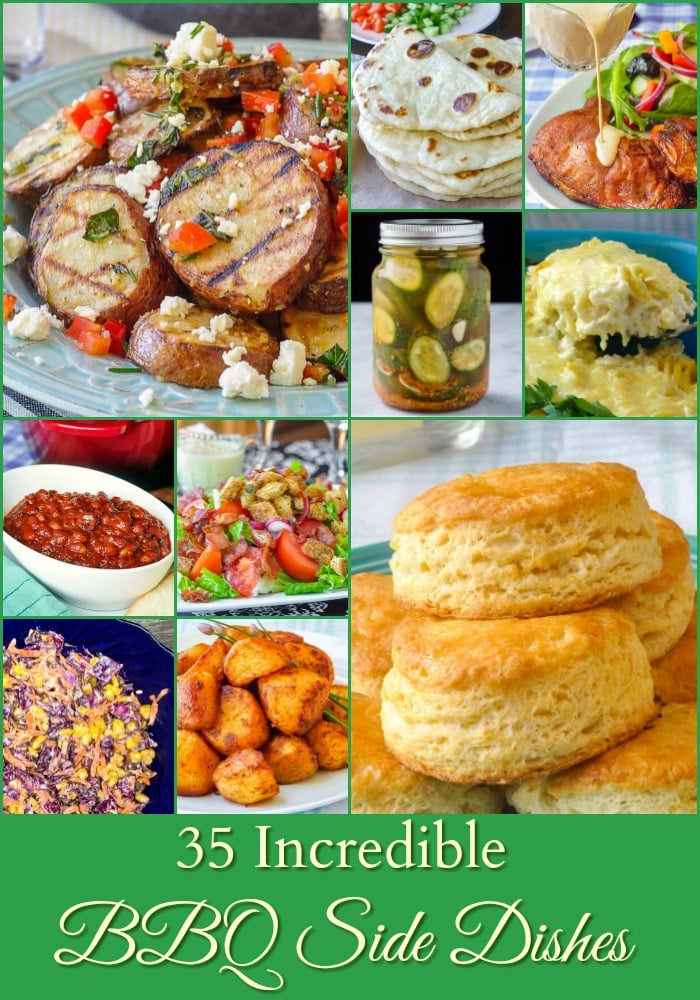 Like this Slow Roasted Dry Rubbed Pulled Pork recipe?
You'll find hundreds of other great ideas in our BBQ & Grilling Category.
To keep up with the latest home style cooking & baking ideas from Rock Recipes plus daily recipe suggestions from decadent desserts to quick delicious weekday meals, be sure to follow Rock Recipes Facebook Page and follow us on Instagram.
You can also sign up for our FREE newsletter to know immediately when we add new recipes. You'll also get weekly suggestions for great family friendly meals and desserts too!

Rock Recipes a participant in the Amazon Services LLC Associates Program, an affiliate advertising program designed to provide a means for us to earn fees by linking to Amazon.com and affiliated sites. Our product recommendations are almost exclusively for those we currently use or have used in the past.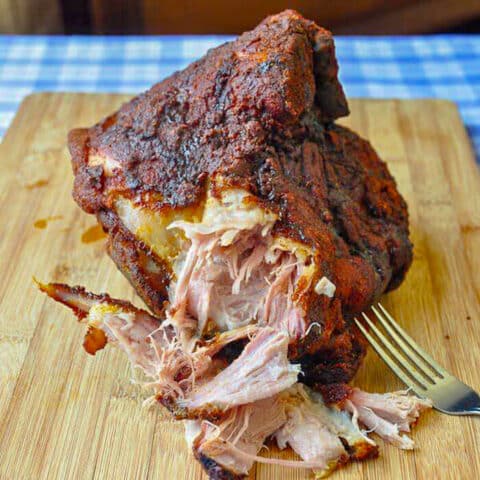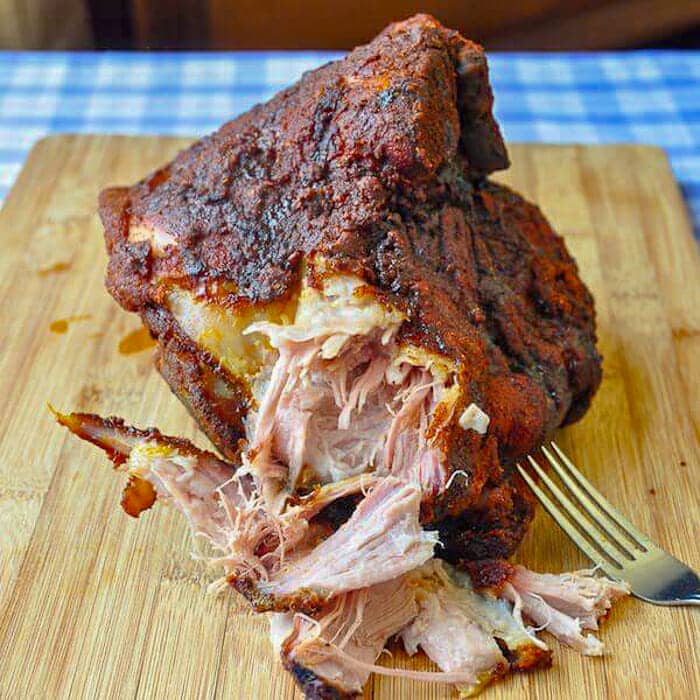 Slow Roasted Dry Rubbed Pulled Pork
A simple, dry rubbed pulled pork recipe that lets you enjoy smoky spicy flavour all year long from your oven.
Ingredients
For the dry rub (makes about 2 cups)
3 tbsp paprika
2 tbsp smoked paprika
2 tbsp chili powder
3 tbsp kosher salt
1 tbsp powdered ginger
1 tbsp chipotle powder
6 tbsp brown sugar
1 tbsp black pepper
1 tbsp ground nutmeg
1 tbsp ground oregano
1 tbsp ground thyme
1 tbsp ground coriander
2 tbsp dry mustard powder
2 tbsp garlic powder
3 tbsp onion powder
1 tsp ground cumin
1 tsp cinnamon
For the pulled pork
7-8 pound whole pork shoulder
1 cup water
1 cup apple juice
1 cup apple cider vinegar
Instructions
For the dry rub
Mix together all of the ingredients very well and store any unused dry rub in an airtight container in a cool place.
For the pulled pork
I like to remove the skin from the pork shoulder and trim the outer fat layer to about a 1/4 inch. You can leave the skin on if you prefer.
Liberally rub the entire pork shoulder with the dry rub, cover with plastic wrap and let sit in the fridge for 12-24 hours to let the spice flavors penetrate the meat before cooking.
Preheat oven to 225 degrees F.
Mix together the water, apple juice and apple cider vinegar.
Pour into the roasting pan with the pork shoulder.
Roast uncovered for about 1 hour and 45 minutes per pound. (See notes in recipe introduction.)
When the pork shoulder comes out of the oven, tent it loosely with aluminum foil and let it sit to rest for 30-45 minutes before pulling the meat apart in medium sized pieces to serve. Toss the pork in the skimmed pan drippings or with a little Maple Chipotle Barbecue Sauce to serve.
Nutrition Information
Serving Size
1 grams
Amount Per Serving
Unsaturated Fat

0g