Grilled Bacon Cheeseburger Pizza – the great flavour of a BBQ burger in pizza form; all cooked on the backyard grill.
Grilled pizza is something I've written about several times here on Rock Recipes; it really is a family favourite thing to make around here on the backyard grill in the summertime. When it's done right, a few little char marks or burnt dough bubbles actually reminds me of pizza from a wood fired oven in a gourmet pizza restaurant.
In this case, I've taken a similar idea to my Philly Cheesesteak Pizza and used it along with some of my Coca Cola BBQ Sauce to create a summer grilled pizza that's reminiscent of a great barbecue burger, hot off the grill.
To give an added boost of flavour, I seasoned the beef with a little of my Smokin' Summer Spice Dry Rub which is a complete summer staple now around here for almost everything that's grilled or slow barbecued during the outdoor cooking season.
This actually turned out to be more of a composite of several of my recipes which worked well together. Links to all the different components of the pizza are included and instructions for making great pizza on the grill as well as a pizza dough recipe are also included in this post: The Perfect Grilled Pizza.
Like this Grilled Bacon Cheeseburger Pizza recipe?
You'll find hundreds of other great ideas in our Beef Recipes Category and even more in our BBQ & Grilling Category.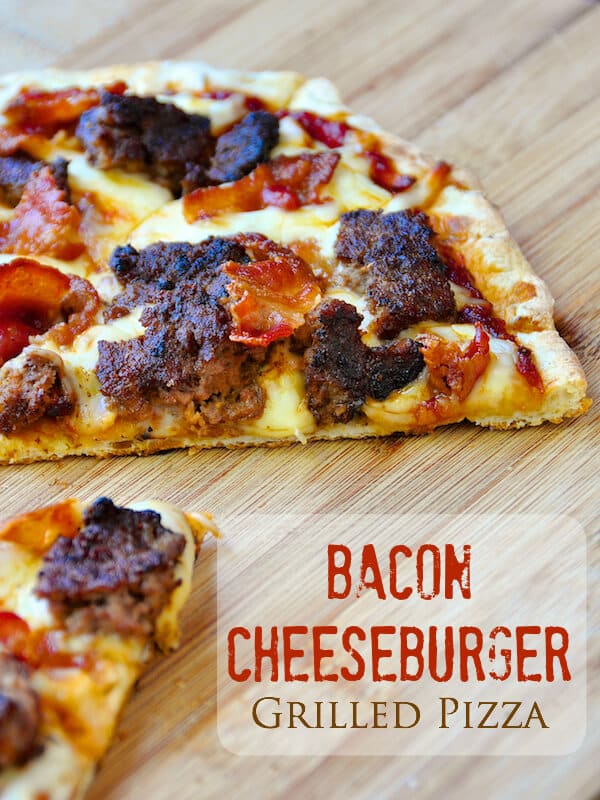 Grilled Bacon Cheeseburger Pizza
Grilled Bacon Cheeseburger Pizza - the great flavour of a BBQ burger in pizza form; all cooked on the backyard grill.
Recipe type:
BBQ/Grilling
Ingredients
For each 12 inch pizza you will need:
1 ball Pizza Dough
¾ cup Coca Cola BBQ Sauce or Pizza Sauce
6 ounces ground beef
1 clove garlic,minced
salt and pepper to season
4 slices cooked smoked bacon
1½ cups shredded cheese, I use a blend of part skim mozzarella and cheddar
Instructions
Stretch or roll the dough out into about 12 inch rounds.
Preheat your gas grill to about medium low heat and place the stretched dough portions, a couple at a time directly on the grill. Watch these carefully, adjust the temperature and move them around on the grill as needed. You will know it's time to flip them when the dough bubbles significantly. You can burst any really large bubbles before you flip them and cook for an additional minute or two, then remove to a wire rack to cool.
Cook the bacon not quite crispy and brown the ground beef along with the garlic using salt and pepper to season. If you like you can use some of my Smokin' Summer Spice Dry Rub to season the beef as well.
To cook the pizza, spread the BBQ or Pizza sauce over the prepared flatbread crust and add the cheese, beef and bacon.
Preheat the grill. If using a gas grill, turn off the burners on one side and place the dressed pizza on the opposite side. If using a charcoal grill build the coal fire on one half of the grill and cook the pizza on the other side.
Once the pizza is in place, shut the lid and cook until the cheese completely melts. This can usually take anywhere from 10-15 minutes. I turn the pizzas 180 degrees half way through the cooking tome so that they brown evenly on the bottom. Sometimes I will move the pizza over the fire in the last minute if I want a really crispy bottom crust.
Notes
This recipe calls for BBQ Sauce or Pizza Sauce but if you have both on hand, a blend of half of each is also a really tasty option too.