Fettuccine Alfredo. Using only 5 ingredients. Simple preparation and top quality ingredients ensure the best, creamiest and most flavourful Fettuccine Alfredo every time.
I was inspired to post this Fettuccine Alfredo recipe for a friend who asked me how I make mine. When she asked, I was reminded of a chain restaurant I went to a couple of years ago with a group of coworkers. I may get a take-out meal from a chain restaurant on occasion but they are generally not my choice for a full service, sit down meal. The reason most often is the shortcuts they make for convenience and the quality of ingredients is often not up to par. 
On that visit I thought the Fettuccine Alfredo with Grilled Chicken seemed like a safe bet. I was wrong. The sauce was flat, flavourless and appeared to have been somehow thickened partly by cornstarch. It was no better than wallpaper paste.
I suspect it wasn't prepared on site but probably bulk prepared at a food production facility and shipped in. That's certainly not what I pay for in a good restaurant meal.
Many people also make Fettuccine Alfredo much heavier than it needs to be, adding over the top ingredients like cream cheese. I especially object to the cream cheese type recipes because the cheese is too strongly flavoured and often overpowers the flavours of the garlic and Parmesan which should be front and centre.
Cream and butter make the best base for this sauce and the much used Italian practice of reserving a little of the pasta water to help regulate the thickness of pasta sauces is a secret to success here too.
I didn't count the salt and pepper or the pasta water in the ingredients number or the optional herbs either, just to give an idea  of the essential ingredients of the recipe. The dish can stand on it's own as a great lunch, as a starter course, or as a side dish for endless entree options.
We often use this basic recipe t0 add things like peppers, tomatoes, bacon and grilled chicken or shrimp for a complete pasta meal.
Like this recipe?
Yale a look at our other pasta dishes and more in our Italian Inspired Category and in our Quick & Easy Meals Category.

To keep up with the latest home style cooking & baking ideas from Rock Recipes plus daily recipe suggestions from decadent desserts to quick delicious weekday meals, be sure to follow Rock Recipes Facebook Page and follow us on Instagram.
You might also like: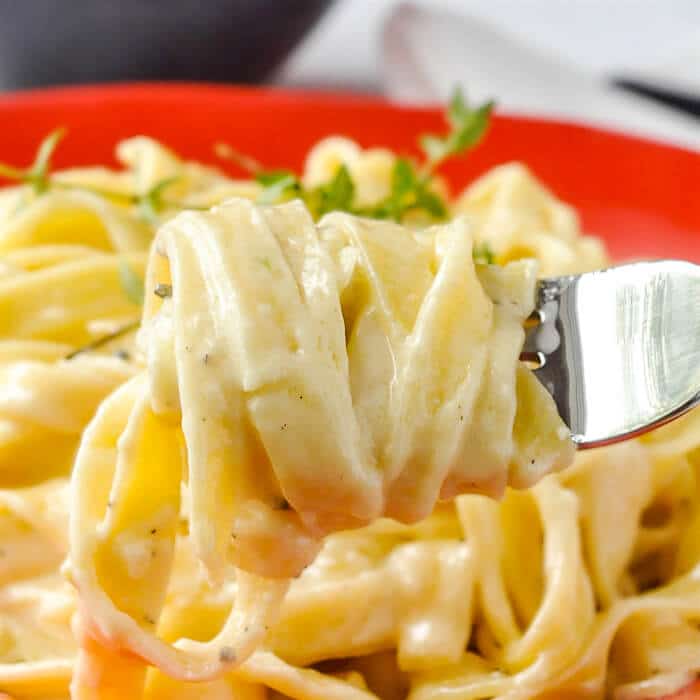 Fettuccine Alfredo - using only 6 ingredients
Fettuccine Alfredo - using only 5 ingredients. Simple preparation and top quality ingredients ensure the best, creamiest and most flavourful Fettuccine Alfredo every time.
Cuisine:
Italian Inspired
Ingredients
3/4

pound

package fresh fettuccine pasta

about 350 grams

1/3

cup

real dairy butter

no substitutes

6

cloves

finely chopped fresh garlic

2

cups

whipping cream

35% milk fat or greater

salt and pepper to season

2

cups

finely grated parmesan cheese

Parmigiano Reggiano is best

1-2

teaspoons

finely chopped Italian parsley

basil or oregano (optional)

in

Some reserved water used boiling the pasta
Instructions
Cook the fresh fettuccine in well salted boiling water as directed on the package. Be careful not to overcook the pasta; al dente or even a little under is best for this recipe.

Melt the butter in a large sauté pan and add the chopped garlic over medium low heat. Cook until the garlic softens but does not brown.

Add the whipping cream and simmer on medium heat for a few minutes until the volume reduces slightly.

Add a pinch of salt and pepper. (Careful with he salt, if you don't want to use it that's fine, there is plenty in the parmesan cheese to provide seasoning)

Add the drained cooked pasta to the pan and sprinkle in about 1/3 of the parmesan cheese. Toss well.

Add the rest of the cheese in 2 portions tossing well after each addition. If at any time the alfredo sauce gets too thick, just add a little splash of the pasta water to loosen it up before adding more cheese.

If using the fresh herbs, toss them in at the very end.

Serve immediately.
Rock Recipes a participant in the Amazon Services LLC Associates Program, an affiliate advertising program designed to provide a means for us to earn fees by linking to Amazon.com and affiliated sites. Our product recommendations are almost exclusively for those we currently use or have used in the past.