Garlic Butter Steak, Family Style. Learn the pan-rushing method of cooking a large steak that can be sliced and shared with the whole family, complete with melting garlic butter as a tasty finishing touch.
This idea for a recipe post for Garlic Butter Steak came about last week when Prime Rib steak was on sale at one of our local supermarkets. I love a great steak dinner but my frugal nature always makes me wait until prime cuts of beef are on sale before indulging in one.
The other thing about serving steak dinner to the whole family is that it can get pricey, even when on sale. The solution for us is often a large thick steak that we sear in a cast iron pan. Then we finish roasting in the oven for about 15 minutes or until medium rare to medium well done.
This method is called pan rushing in the restaurant trade and works incredibly well. You've likely had it prepared for you like this in a good restaurant or steak house.
Sharing a large steak is also more economical in terms of wastage. There is no need of putting a 10 ounce steak in front of someone who is only going to eat half of it.
This method allows everyone at the table to portion control the amount that they would actually like to eat. It also allows for any leftovers to be kept for the steak sandwich I always want the next day!
Even a simply seasoned steak, perfectly cooked the way you like it is a totally acceptable way to serve it. Small finishing touches can improve the experience without overcomplicating matters. Some steakhouses will finish a steak with a pat of salted butter or a compound butter to add extra flavour; like in the herb butter I use to serve with my Smoked Paprika & Balsamic Steak!
Garlic Butter Steak, complimenting the flavour.
This time I kept it simple using a plain garlic butter. It melds with the natural juices of the steak and the simple seasoning on the outside of the meat to create a very complimentary flavour combination. Yet, it still allows the taste of the beef to shine through.
Try this simple addition to your steak dinner and you'll find yourself doing it routinely from now on.
If you want to season your steak with something more than salt and pepper, then try our incredibly versatile, Smokin' Summer Spice Dry Rub.
Some great steakhouse side dishes like Creamy Bacon Parmesan Potatoes or classic Garlic Thyme Fondant Potatoes would be perfect with this simple garlic butter steak recipe.

If you liked this recipe you'll be sure to find many more to try and love in our collection of 26 Best BBQ Side Dishes.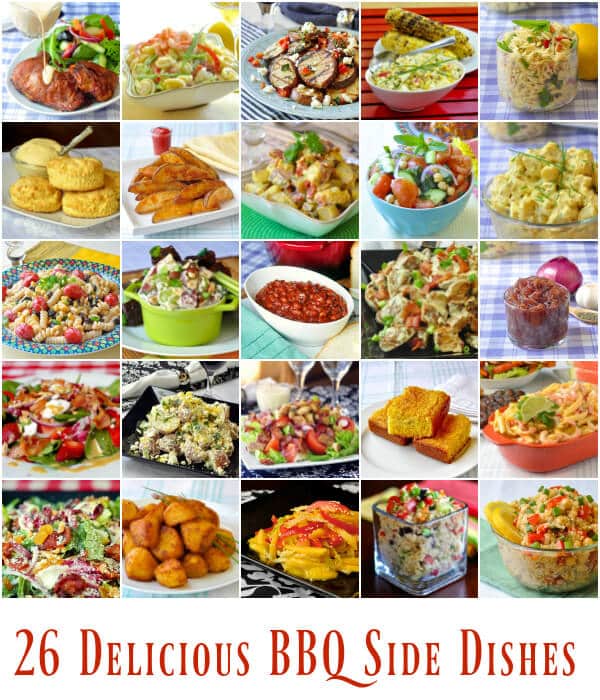 Like this Garlic Butter Steak recipe?
You'll find many more great ideas in our Beef Recipes Category and in our BBQ & Grilling Category.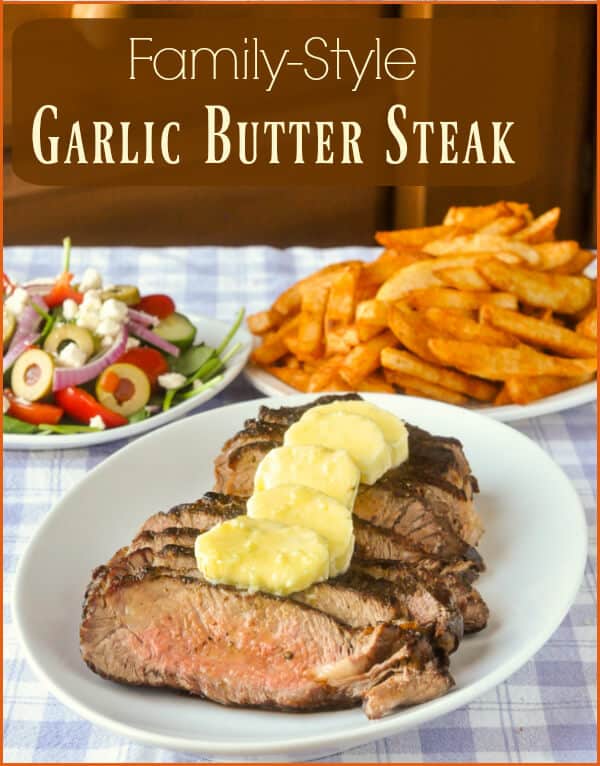 It's easy to keep up with the latest home style cooking & baking ideas from Rock Recipes. Be sure to follow Rock Recipes Facebook Page and follow us on Instagram. Plus you'll see daily recipe suggestions from decadent desserts to quick delicious weekday meals too.
You can also sign up for our FREE newsletter to know immediately when we add new recipes. You'll also get weekly suggestions for great family friendly meals and desserts too!
Garlic Butter Steak, Family Style
Garlic Butter Steak, Family Style. Learn the pan-rushing method of cooking a large steak that can be sliced and shared with the whole family, complete with melting garlic butter as a tasty finishing touch.
Ingredients
1/2

cup

+ 3 tbsp soft butter

4-6

cloves

minced garlic

2

lb

rib eye or strip loin steak

kosher salt and coarse black pepper to season.
Instructions
First prepare the garlic butter, which you will want to do an hour or more in advance. Even the day before is perfectly fine. This garlic butter will easily keep for a week in the fridge.

Heat the 3 tbsp of butter over low heat; you will not want the butter to brown at all.

Add the garlic and sauté it in the butter for just a minute or so until it softens.

Remove from heat and allow to cool almost to room temperature.

Stir it into the 1/2 cup of soft butter at room temperature until thoroughly combined.

Spoon the garlic butter onto a piece if plastic wrap and wrap it loosely before gently forming it into a small log shape.

Refrigerate the butter until firm, then allow it to come back to room temperature before slicing and using it.

Take the thick-cut steak from the refrigerator at least a half hour before cooking it. A steak that is as close to room temperature as possible, will cook far more evenly and be more tender than a cold steak.

Preheat oven to 400 degrees F.

Season the steak well on all sides with the salt and pepper and sear over high heat for a minute on each side in a preheated, oven safe pan. I use a little canola oil in the pan. I also use long tongs to hold the thick steak in place upright to sear the edges as well.

Place the pan in the preheated oven for 10- 15 minutes or until the steak is cooked to your liking. This 2 inch thick steak as pictured took about 15 minutes to cook to medium well. Trust your meat thermometer to check the internal temperature of the steak. (See Notes.)

Turn the steak over in the pan once during the cooking time to ensure the it cooks evenly.

Remove from the oven, transfer it to a cutting board and let the steak rest under a loose tent of aluminum foil for 10 minutes. (See Notes)

Slice the hot steak thinly, across the grain, top with the sliced, room temperature garlic butter and serve.
Recipe Notes
You can also add herbs like rosemary and thyme to the butter for extra flavour if you like. A pinch of chili flakes or some crushed chili paste makes a great spicy version too. Add chipotle powder or chopped jalapeño peppers for a southwestern version that's delicious too. You can also prepare this recipe on an outdoor gas grill. Just have one side on high heat to sear the meat, then instead of placing in the oven, place the steak on the other side of the grill with the burner turned off. Keep the burner on the opposite side on high and close the lid for 10-15 minutes or longer until your steak is cooked to your liking. Use a meat thermometer for most accurate cooking results for steak. Internal temperature for rare is about 50 degrees C (120 to 125 degrees F), for medium rare 55 degrees C (130 to 135 degrees F) and well done should not surpass 70 degrees C (160 degrees F). It is always important to rest the steaks for 10 minutes under a loose tent of aluminum foil before serving. This allows for residual cooking and for the natural juices to settle back into the meat.

Rock Recipes a participant in the Amazon Services LLC Associates Program, an affiliate advertising program designed to provide a means for us to earn fees by linking to Amazon.com and affiliated sites. Our product recommendations are almost exclusively for those we currently use or have used in the past.