Orange Chocolate Banana Bread with White Chocolate Chunks – this ain't your Grandma's banana bread!
When I posted the original version of this  chocolate banana bread recipe it got an immediate great response and almost immediately readers began tweaking it to suit their own taste; adding walnuts, chocolate pieces etc. My mom's twin sister, Aunt Moo, suggested a chocolate orange version, which of course got my attention…we all know anything chocolate orange does, so I had to try it.
I had some blocks of white chocolate that I purchased for an upcoming cookie recipe so I cut them into rough chunks and added them to the mix too. The result was a dark, rich, fragrant, super moist loaf cake with creamy nuggets of white chocolate interspersed throughout…this definitely ain't your Granny's banana bread!
Like this Orange Chocolate Banana Bread recipe?
You'll find hundreds of other sweet ideas in our Cakes & Pies Category and even more in our Desserts Category.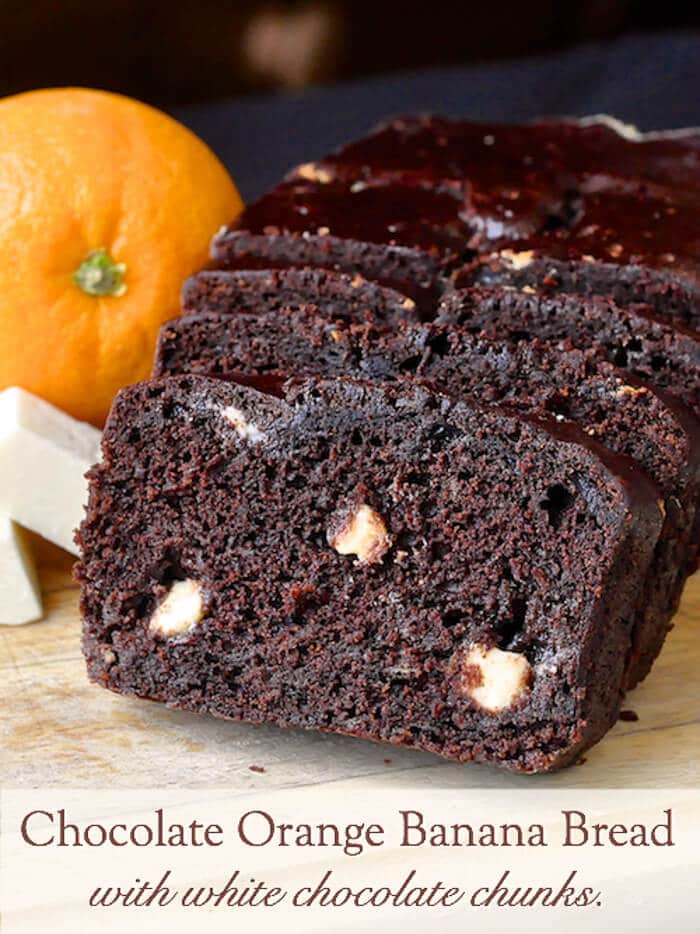 Chocolate Orange Banana Bread with White Chocolate Chunks
Chocolate Orange Banana Bread with White Chocolate Chunks. Definitely not your Grandma's banana bread!
Serves:
1 large or two small loaf cakes
Ingredients
1 cup white sugar
½ cup vegetable oil
2 eggs, slightly beaten
3 medium bananas, mashed
1 orange, juice and zest
1¾ cups flour
½ cup cocoa
1 tsp baking soda
½ tsp baking powder
½ tsp salt
½ pound white chocolate, roughly chopped in small chun
Instructions
Preheat oven to 325 degrees F.
Beat sugar and oil in a bowl until foamy. Add eggs, finely chopped orange zest and mashed banana. Mix well.
Sift together flour, cocoa, baking soda, baking powder and salt.
Fold into banana mixture alternately with orange juice.
Fold in the white chocolate chunks.
Pour batter into 1 large or two small greased loaf pans ( I use small aluminum disposable loaf pans) and bake for 45 minutes to an hour depending upon pan size. A toothpick inserted in the center which comes out clean is the best indicator that the loaf is fully baked.