Smores Cheesecake. All the deliciousness of campfire smores in a very grown up, decadent dessert that will have eyes popping around any dinner table.
I've had a hankering to make a Smores Cheesecake for a while now and have been thinking about ways of putting one together, so when the occasion of a lunchtime pot-luck at the office came up, I decided it was time to have a crack at it.
Should I even bother to describe this one!? Just look at that photo! What about that is not to love?
Reimagining a campfire favourite.
With the graham crackers a major part of a great S'more, I knew I couldn't scrimp on the graham crust layer in my Smores Cheesecake, so this recipe uses about 50% more crumbs than I would usually put in a regular cheesecake. The creamy, perfectly baked chocolate layer comes next followed by a soft silky chocolate ganache layer for added chocolate punch. Finally a crown of homemade marshmallow fluff frosting gets spread on and torched to golden toasty tastiness.
I cut a piece of the cake to take a photo of course before I brought it to the office, After the photo was taken, Spouse and I greedily dug into the sample piece. At the first bite, Spouse blurted out, "That's my birthday cake this year!" It's not like the woman doesn't have choices but that's just how amazingly delicious this enticing and irresistible cheesecake is.
Some tips for baking a perfect cheesecake:
A word about baking a cheesecake in a bain marie before starting the recipe. A bain marie is simply a water bath that buffers the direct heat from the sides and bottom of the baking pan to more evenly bake the cheesecake from the sides to the center.
I bake my cheesecakes in a 9 or 10 inch springform pan that has the bottom and sides wrapped in multiple layers of wide heavy duty aluminum foil which forms a sort of boat that the cheesecake pan sits in. The roll of aluminum foil that I use is about 16 inches wide. I use at least 4 layers of foil to make sure that no water leaks in and ruins the crust of my cheesecake. The aluminum foil wrapped pan is then placed inside a larger baking pan; I use a 12 inch cake pan. Boiling water is then poured into the larger pan filling it from 1/2 to 2/3 of the way to the top.
I find it best to pour the boiling water into the pan after it is placed on the rack in the oven as you are less likely to splash water onto the cheesecake or inside the aluminum foil. I reuse the aluminum foil for several future cheesecakes, adding a couple of layers to it each time just to be safe.
If you liked this recipe you may also want to try our Blueberry Lime Cheesecake, so deliciously different!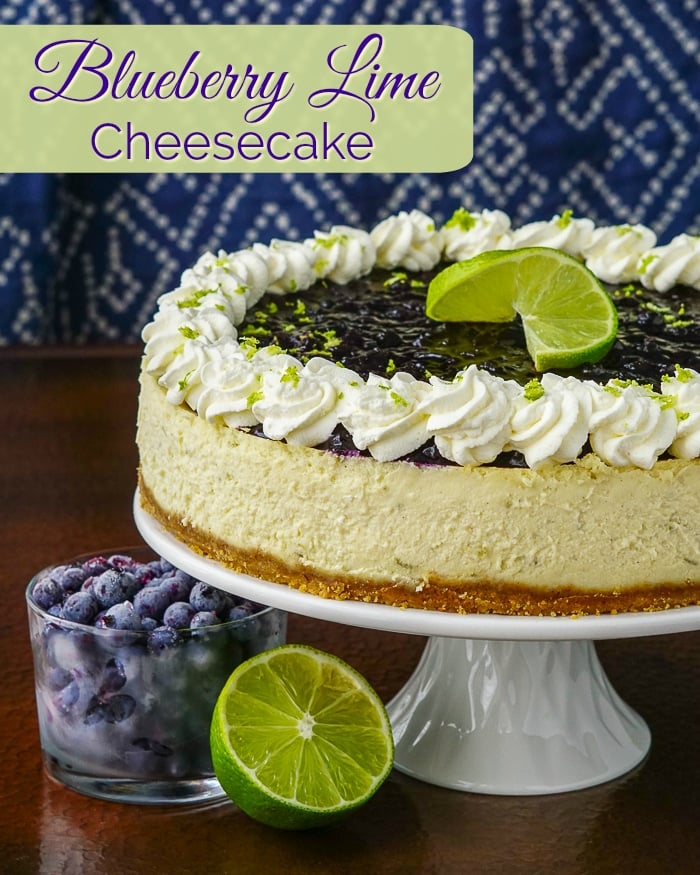 Like this Smores Cheesecake recipe?
You'll find hundreds of other sweet ideas in our Cakes & Pies Category and even more in our Desserts Category.
It's easy to keep up with the latest home style cooking & baking ideas from Rock Recipes. Be sure to follow Rock Recipes Facebook Page and follow us on Instagram.
Plus you'll see daily recipe suggestions from decadent desserts to quick delicious weekday meals too.
You can also sign up for our FREE newsletter to know immediately when we add new recipes. You'll also get weekly suggestions for great family friendly meals and desserts too!

Rock Recipes a participant in the Amazon Services LLC Associates Program, an affiliate advertising program designed to provide a means for us to earn fees by linking to Amazon.com and affiliated sites. Our product recommendations are almost exclusively for those we currently use or have used in the past.
Visit my Amazon Store for my favourite kitchen gadgets and appliances, plus recommendations from my personal cookbook collection.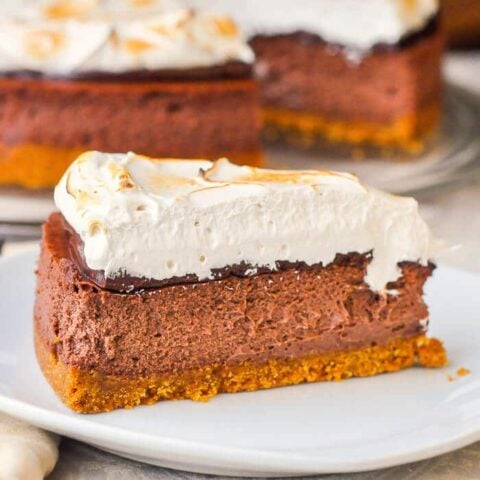 Yield:

16 Servings
Smores Cheesecake
Smores Cheesecake . All the deliciousness of campfire smores in a very grown up, decadent dessert that will have eyes popping around any dinner table.
Ingredients
For the Graham crumb base
2 cups graham wafer crumbs
4 tbsp sugar
1/2 cup melted butter
For the chocolate cheesecake layer
1 cup whipping cream
2 tbsp powdered sugar
1 ½ pounds cream cheese, three 8 oz blocks
3 squares unsweetened baking chocolate, melted (a pinch you can substitute 1/2 cup cocoa but add a few tablespoons of milk to the batter as well)
1 cup sugar
3 eggs
1 tsp vanilla extract
For the chocolate ganache glaze
1/4 cup whipping cream
1 cup dark or semisweet chocolate chips
For the Marshmallow Fluff Frosting
1/2 cup sugar
1/4 cup light corn syrup
3 tablespoons water
2 large egg whites at room temperature
2 tsp pure vanilla extract
Instructions
To prepare the Graham crumb base
In a small bowl, combine the graham crumbs, sugar and melted butter.
Press into the bottom of a lightly greased 10 inch spring form pan. (Grease bottom only! or line the bottom of the pan with parchment paper for even easier release of the cheesecake when it's baked. Lay a sheet of parchment paper on the bottom portion before you clip on the sides, then trim the excess paper hanging from the bottom of the pan.)
To prepare the chocolate cheesecake layer.
First whip the whipping cream and powdered sugar to firm peaks and set aside.
Cream together the cream cheese, melted chocolate and sugar.
Add the eggs, one at a time beating well after each addition.
Then add the vanilla extract and blend in well.
Fold the whipped cream into the cheesecake batter until smooth
Pour over the graham crumb base in the prepared spring form pan.
Bake in a water bath (bain mariat 300 degrees F for about an hour or until the surface of the cake no longer looks glossy.
Remove from oven and immediately run a sharp knife around the edge of the pan (this can help to prevent cracking>).
Cool completely in the pan before refrigerating. Top with chocolate ganache glaze.
To prepare the Chocolate Ganache Glaze
In a small saucepan, scald but do not boil 1/4 cup whipping cream.
Then melt in the chocolate chips on low heat.
Spread evenly on the top of the cooled cheesecake and refgerate for at least 15 minutes before adding the marshmallow fluff frosting.
To prepare the Marshmallow Fluff Frosting
To a small saucepan add the sugar, corn syrup and water.
Stir together and bring to a rolling boil over medium heat but do not stir while it boils. Cook until the mixture reaches 242 degrees F on a candy thermometer or when a 1/4 tsp of the mixture dropped into ice water forms a firm ball.
Meanwhile, in the bowl of an electric mixer with a whisk attachment, whip the egg whites and vanilla extract to soft peaks:
When the sugar syrup gets to the proper temperature, with the electric mixer still running on medium speed, very slowly pour the syrup in a thin stream onto the beating egg whites.
Beat until soft but well defined peaks form.
Immediately spread the frosting onto the top of the chocolate ganache on the cheesecake.
Using a butane kitchen torch on medium flame, carefully wave the flame back and forth in a continuous motion over the frosting until it toasts to a golden brown.
If you don't have a butane kitchen torch you can carefully brown the top of the frosting under your oven's broiler. Place the cheesecake plate on a pizza pan so that you can rotate it easily while it is under the broiler. Place the frosted cheesecake on the oven's middle rack under the broiler and rotate about 90 degrees every 15-20 seconds as the top browns. Watch this very carefully and DO NOT leave it unattended; this can burn very quickly. The browning time will vary from oven to oven, so use your own judgement and immediately take it out of the oven when the proper color has been achieved.
Refrigerate the cheesecake until ready to serve.
Nutrition Information
Yield
16
Serving Size
1 slice
Amount Per Serving
Calories

525
Total Fat

36g
Saturated Fat

21g
Trans Fat

0g
Unsaturated Fat

12g
Cholesterol

114mg
Sodium

266mg
Carbohydrates

48g
Fiber

2g
Sugar

38g
Protein

7g
The nutritional information provided is automatically calculated by third party software and is meant as a guideline only. Exact accuracy is not guaranteed. For recipes where all ingredients may not be used entirely, such as those with coatings on meats, or with sauces or dressings for example, calorie & nutritional values per serving will likely be somewhat lower than indicated.